A Play by Play of Ryan Hughes
Public speaking is one of the top fears plaguing Americans today, with millions of people being terrified of talking in front of large crowds. A recent Chapman University study revealed that upwards of 25% of people are afraid of public speaking. However, Sophomore Ryan Hughes not only speaks in front of large crowds, but he also sings and dances as well. Since his freshmen year debut, Ryan has been an integral part of the De Smet Dionysian Players ensemble of performers, with his first role being a lead in Peter and the Starcatcher. Ryan has gone on to play a litany of different characters that display his wide range as an actor, whether he's an old irate Italian man, a Roman servant masquerading as a dead woman, or a plucky Dry Cleaner manager who writes his own musical, Ryan has routinely shown audiences of over 350 people his natural talent and affinity for the spotlight.
"It's difficult to come up with a different character for everything and not copy stuff," Hughes said. "But being someone new for each show is a new experience every time which makes it fun."
Despite having multiple lead roles in just a few years, Hughes was a beginner his freshman year and believes his time spent acting has made an important impact on his high school experience.
"I don't think I thought about theater at all before De Smet," Hughes said. "But for me, it has been a place where I met most of my friends, even a family of sorts."
Since starting out his freshman year, Hughes has devoted hundreds of hours to working on shows, and consequently, he feels he can better understand his process as an actor and how he specifically finds success in portraying a character.
"I like playing a character that is similar to me in just one little aspect," Hughes said. "That way I can use that and then grow on it."
Hughes came to the theater because of his enjoyment from the Acting and Improv class offered at De Smet, and though he has found a comfortable niche to perform and entertain, he still enjoys branching out wherever he can to improve his craft.
"I'm always willing to try new things to get better at both acting and improv, Hughes said. "I think that's how I have managed to grow in it the past few years."
About the Writer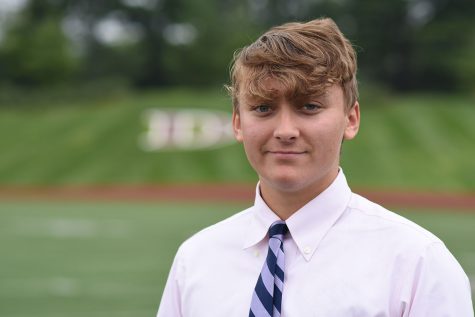 Camden Brazile, Copy Editor
Favorite food:
Banana milkshake


Hobbies:
theater, video games, movies


Favorite fast food place:
Steak 'n Shake


Never shower for the rest of your life or never brush your teeth?
Never...