Sophomores for service
A look into the two part Ascent retreat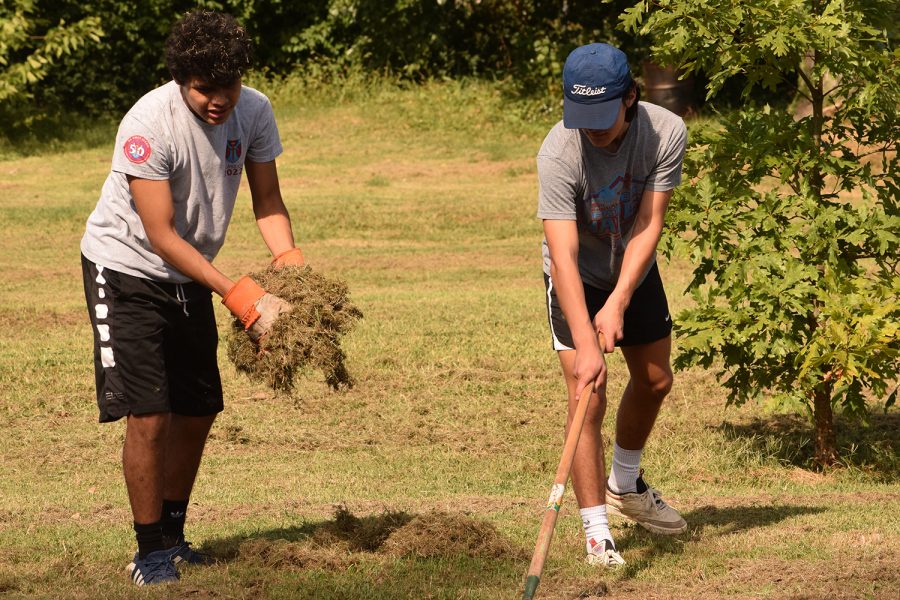 Sophomore Luke Melton had already been through Odyssey and a full year at De Smet, but he still had nervous anticipation about what Ascent was all about. Although he knew the names of all his classmates in his Ascent group, he did not know much about them. As the retreat went on and he got to know his group better and he was filled with a sense of comfort knowing he had a lot more in common with these guys than he originally thought.
Ascent is a retreat that the sophomores go on early in the year. This retreat is split up into two separate Mondays. Half the class goes to Camp Wyman, and the other half is split into many smaller groups that get scattered around to different service projects across St. Louis.
"Ascent is meant to follow up the El Camino retreat that the freshman have second semester," Director of Sophomore Ascent Dave Boland said. "Ascent is at the beginning to set a tone for the rest of the year."
The Ascent retreat is all about forming men for and with others. The service part of this retreat focuses on the Men for others part. Some of the places that the sophomores went for service were Room At the Inn, Gateway Greening, The Ville Neighborhood Garden, and St. Matthew's Parish.
"I get to watch our students interact with people of the community, both working alongside them, learning about them, talking with them, understanding their situations," Director of Service Lisa Knabe said. "I am really proud of the job that these guys did and they have made De Smet proud."
The other part of this retreat focuses on the men with others part. The students go to Camp Wyman where they do many team building activities.
"With their classmates, they do outdoor activities like rock climbing, different obstacles like high ropes and low ropes challenges," Boland said. "This builds unity, builds brotherhood and solidifies that bond that they have with their classmates."
The overall focus of Ascent is to help the sophomores experience both service and brotherhood.
"Ascent pushed me out of my comfort zone in ways it hasn't before," Melton said. "It let me meet kids in my class that I never thought I would talk to."