Getting the dirt on our trash
Students initiate school-wide trash audit.
As he strapped on the hazmat suit he prepared himself to dig through pile after pile of trash. He thought of the worst as he opened the bags. Instantly an aroma of coffee and fruit wafted against his nose and he braced himself as he started to dig in. He expected unfinished food, wrappers, and tissue papers. What he did not expect were the seemingly endless empty plastic bottles.
Senior Alex Stratmen and his AP Biology Class performed a trash audit of the whole school on Sept. 5.
"It's all to raise awareness so people know what we are throwing away," Science Department Chair Dr. Mariette Baxendale said, "and care for our common home and our environmental stewardship and our stewardship to others because the waste ends up somewhere."
Single use plastics are plastic items that are used only once before being thrown away. These items include water bottles, plastic utensils, plastic bags, and plastic straws. Most of these plastic items have a half life of up to a thousand years, which means they are non-biodegradable and break down slowly into micro-plastics while releasing dangerous toxins in the process.
"
We are seeing how De Smet is playing its part in the pollution issue. That's why we are trying our best to fix the way we recycle."
— Senior Cole Jansen
"There were hundreds of plastic bottles," Stratmen said, "On the second floor we had about 98 plastic bottles, it was by far the most thrown away item."
According to the Government of Canada about 8 million tons of plastic enter the ocean every year, about 15 tons of plastic every minute. This plastic waste then joins the 150 million tons of waste, much of it non-biodegradable, already in the oceans.
"We constantly throw away a lot of plastic trash," senior Jacob Perez said. "A lot of it can be recycled, but it is put in the wrong bins. It is a bad situation that we are in but I think we can work to fix it."
These plastics severely affect ecosystems and animals around the world, especially in oceans, rivers, and lakes. According to Ocean Crusaders over 1 million marine animals and seabirds are found dead due to plastic waste each year.
"We are seeing how De Smet is playing its part in the pollution issue," senior Cole Jansen said. "That's why we are trying our best to fix the way we recycle."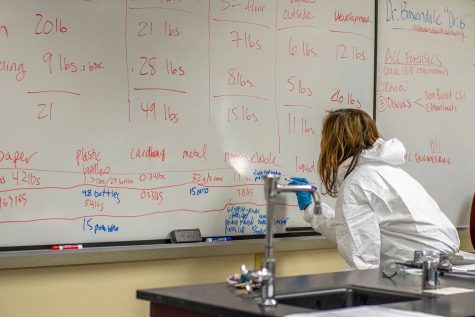 Baxendale's freshman Honors Biology did a similar study in which they gathered data of the school's single waste plastic use. After looking at the data they started coming up with ideas on how to limit the waste.
"The results are just a step," Baxendale said. "The students are excited about it and I think it's already raising awareness." 
Seniors plan to publish the data to the whole school in hopes that students become aware of the issue and are informed of the waste they throw away each day. 
"People are always going to use what's convenient to them," Baxendale said. "Its changing that mindset from what's convenient to what's good."