Student-made crosses to be sold at Catholic Supply Store
While staring at a cross filled wall in teacher Andy Lange's business two class, three seniors brainstormed ideas for their company. That is when they had their "aha!" moment. The answer was right in front of them.
Thomas Hubeli, Colin Doherty and Ethan Heady realized they want to run a cross-selling business.
"We had to create a product to sell and I just looked at the wall and I thought all (the crosses) looked very similar so I thought we should make one different," Doherty said. "All the ones we saw that were similar (to our design) were one piece of wood or like sixty dollars."
In the beginning, progress was slow. Sales were down, motivation was at a minimum, and peers were beginning to doubt the business's future.
"Honestly, I did not expect it to go this far," senior Thomas Hubeli said. "People were kind of making fun of us at first."
Despite a slow start, the three persevered. Hubeli had a family friend named Lara Traina who was employed at Catholic Supply Store as the Director of Marketing. They decided to reach out to her and see if the store was interested in buying a few crosses. The two exchanged emails and settled on selling 10 crosses to the store.
"(Traina) said she thought the crosses were really cool," Doherty said. "She said she has nothing like them in her store."
The crosses, made from 2x4s, are created in Lange's Business two class. Business two is a new class this year that is designed to be taken after enrolling in Business one.
"Business two is when you take what you learned in Business 1 and turn it into money," Lange said. "We have made money and lost money, and we have had our successes and failures. It has been fun."
The group is still deciding whether they want to continue to sell crosses next semester, but overall they enjoyed the experience of running a business.
"It's pretty cool, people come up to you and ask, 'hey do you make the crosses,'" Heady said. "To be the first group to make a corporate sale is really cool and special."
About the Contributor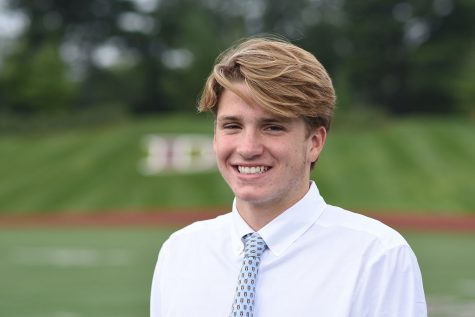 Jay Dolan, Editor-in-Chief
Favorite food:
Ice cream

Hobbies:
video games, water polo, growing own food

Favorite fast food place:
Five Guys

Never shower for the rest of your life or never brush your teeth?
Never shower