Sophomores react to their Ascent service
Hang on for a minute...we're trying to find some more stories you might like.
Sophomores participated in the Ascent day of service yesterday afternoon. They spent the day helping schools, churches, and food pantries around St. Louis.
Sophomores served Our Lady of Perpetual Help, Ville Family Garden, Cardinal Ritter Senior Services, North Grand Neighborhood Services, and the Dewey International School Garden.
Sophomore Hudson Lillibridge worked at Dewey International Studies Elementary. Lillibridge and his classmates spent the day filling dirt beds, trimming shrubs, and picking weeds. Hudson believed while all this service was great to do for the community the best part was interacting with the kids at the school.
"It was hard work," Lillibridge said. "But when the kids came outside and realized they were getting new and improved garden the joy on their faces made all the hard work pay off."
Sophomore Jack Venneman also worked at Dewey International Studies. Venneman believes that retreats like Ascent are important because they really bring the sophomore class together.
"Days like yesterday are great examples of what the Spartan brotherhood is all about," Venneman said. "When we work together as sophomores class there are no limitations on the impact we can have on our community."
Service Project Coordinator Father Chris Schroeder believes the day of service was just another stepping stone for the students in their journey to becoming men for and with others.
"The service they did yesterday was the first step of many steps in learning to become committed to service at this school," Schroeder said. "I hope they enjoyed the experience and gained a new perspective."

About the Writer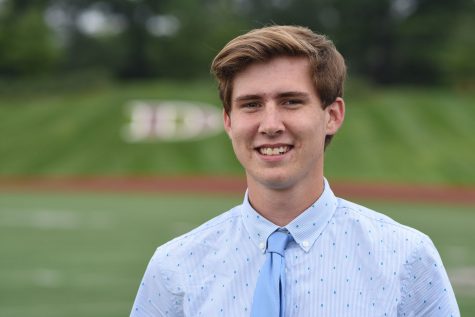 Brennan Dolnick, Editor-in-Chief
Favorite food:
Chicken and rice

Hobbies:
Golf, hanging with friends, watching sports, and video games

Favorite fast food place:
Taco Bell

Never...