Football team raises awareness for Cerebral Palsy
Hang on for a minute...we're trying to find some more stories you might like.
"
The thing that most inspired me about CJ is that even when the doctors told him he couldn't walk, he chose to sprint, beating the odds and taking it a step further."
— Robert Steeples
He overcame the odds despite doctors giving him a 50% chance to live. He's as active as ever even though he was told he wouldn't be able to walk. His parents never believed they would gain support for his condition. Yet, 300 people came to the charity basketball game in his honor. CJ Williams, born with cerebral palsy, is now the symbol of inspiration for the Living with Cerebral Palsy (CP) Foundation. CJ, along with friends also living with this condition, will take the field alongside the football team at the homecoming game this Friday.
CJ's mother Jojo Williams and father Courtney Williams Sr. decided to host a charity basketball game to fundraise for CJ's living and medical expenses. The friends of CJ's father, who are professional basketball players in Europe, came to the charity game showing immense support. Because of the tremendous turnout, CJ's parents founded the Living with CP Foundation. The foundation helps families in similar situations find the resources to build in-home wheelchair lifts, handicap ramps and helps sponsor kids to attend Camp Independence, a cerebral palsy camp.
"It was a very overwhelming feeling because I didn't think that many people would come [to the game]," Williams Sr. said. " It moved me to do something bigger than just for my son."
CJ struggles with day-to-day functions that some people take for granted. From putting on his socks to brushing his teeth, his parents are always there to give him assistance. Head football coach Robert Steeples met CJ during his time playing in the NFL while helping the foundation.
"Being a guy who is able to do things that may not come as naturally to CJ, seeing him push through it motivated me," Steeples said. "The thing that most inspired me about CJ is that even when the doctors told him he couldn't walk, he chose to sprint, beating the odds and taking it a step further."
During a grueling practice, the football team began to make excuses as to why they were not performing up to their standards. After practice, Steeples brought in CJ for some coaching reinforcement. The team embraced him with open arms, staying to hang out and play with him. Some even took it a step further, promoting the foundation on social media.  
"It's awesome," senior captain and quarterback Nate Martens said. "And we are able to share this experience with Coach Steeples, taking on the same role as him as an NFL player but as high school students within the DeSmet community, bringing awareness to cerebral palsy."
The football team is dedicating this week to cerebral palsy awareness. They are posting informational posters throughout the hallways and wearing green, the official color of CP awareness. Thanks to Steeples and the Living with CP Foundation, the game on Friday will be dedicated to raising awareness for CP. Informational pieces will be read between quarters, and CJ and his friends will be introduced to the student section.
"[The players are] realizing the platform they have as athletes here at DeSmet," Steeples said. "With the football program, you are in a visible place and you can make a lot of positive difference."
The Living with CP Foundation will sell t-shirts at the game. All proceeds will go directly to the foundation.
"Please come out to the game on Friday," Martens said. "And wear green to show your support for CJ and the Living with CP Foundation."

About the Writer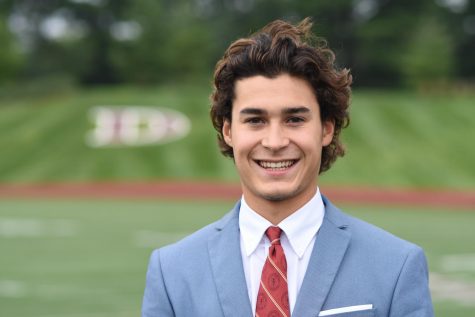 Max Conway, Managing Editor
Favorite food:
Every food


Hobbies:
fishing, being a foodie


Favorite fast food place:
Crazy bowls and wraps


Never shower for the rest...