Senior manages multiple sports teams
Senior has a love for sports whether playing or watching. Because of this, he decided to manage both the soccer and basketball team.
Three seconds left in the game, down by three points, the fans are wondering if he can send the game into overtime. They see him pause, take a breath and shoot the ball. They get on their feet. Nothing can be heard except for the final buzzer going off. The buzzer stops and, "swish" the ball goes in, the fans erupt, rushing the court and the players join in the madness.
These are the moments senior Cameron Range lives for. He didn't make the shot nor was he in the student section. Rather he was on the bench with the team and had a completely different view from everyone else. That view is why he manages sports.
"I've loved sports ever since I've been a kid," Range said. "And I've always wanted to be involved with it even if it meant not playing."
Range has always had a love for sports whether playing in them or watching them. He started out playing soccer at the start of his freshman year and quickly transitioned into the manager for the team his sophomore year. In addition to managing soccer his sophomore year he also managed the basketball team.
"Sports have always been a big thing in my life, and I've always wanted to be a part of them even if that meant not playing," Range said. "I always had that feeling that I needed to be a part of sports."
Range wanted to get out of his comfort zone and try it. His brother Connor, who graduated in 2017, influenced him to step out. When Connor left for college he regretted that he didn't do as much as he could have, and this influenced Range to get involved in any way possible.
"When I started everyone was very welcoming," Range said. "I consider these guys my brothers, I've never had people like this where I can just open up to."
Range's daily tasks include shagging balls for the soccer team, rebounding for basketball, recording stats, and handing out water to the players. He doesn't get a reward for doing it, but he does get an appreciative "thank you" from the players.
"It makes me feel awesome knowing that a kid really appreciates me getting water," Range said. "I want to be remembered for someone who worked hard and was there for everyone."
Being appreciated isn't the only reason he does it. While he is in the practice he sees the same people every day and gets to grow as brothers. Range sees the players in practice and in games and seeing that makes him want to work hard in school.
"If they can push themselves hard physically I can work hard in school," Range said. "Also being around these guys every day makes it worth it."
Being a manager Range gets to see every game from a different point of view. He sees when the players mess up, he sees their reaction when they do good, and he sees the fans cheer throughout the game.
"Being on that bench you see how hard these guys work, and when things do go our way it's crazy to be a part of that," Range said. "When you're on the side with the players everything is more crazy and emotional and it's awesome."
About the Contributor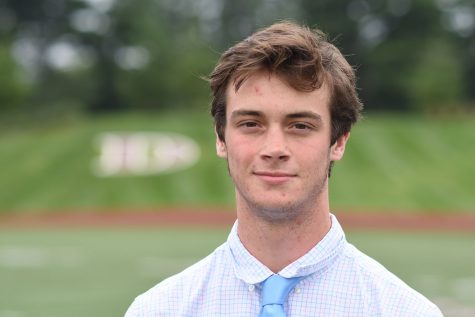 Nick Einig, Web Editior
Favorite food:
Hot wings


Hobbies:
Long boarding, snowboarding, and running


Favorite fast food place:
Canes


Never shower for the rest of your life or never brush your teeth?
Never shower