Swimmers dedicate charity event to coach, team member's father
Hang on for a minute...we're trying to find some more stories you might like.
As his muscles start to cramp and his lungs scream for more air, senior captain Max Conway thinks how easy it would be to give up.  Fifteen minutes of continuous swimming and the finish line is nowhere in sight. But then he remembers the loss of his friend's father to colon cancer and his coach's struggle with breast cancer.  He then picks up his pace and gets into his rhythm.
Swim Across America St. Louis is an annual charity event that takes place in Alpine Lake in Innsbrook, Missouri. Participants can swim half a mile, 1.2 miles, or 2.4 miles.  The money raised goes toward cancer research and treatment. Conway wanted to dedicate his swim to freshman Emmet Concanon's father who passed away from cancer in 2016.
"It hit close to home knowing how cool of a guy [his dad] was and how he was a De Smet Jesuit graduate," Conway said. "I realized a 1.2 mile swim is nothing compared to what he went through."
"
When you go through chemo you literally feel like death."
— Autumn Cortivo
Upon hearing that Conway would be dedicating his swim to his dad, Concanon broke down into tears.
"I thought what Max did was very nice," Concanon said. "I also dedicated my swim to my dad.  I kinda do everything for my Dad."
Losing his father was debilitating to Concanon but it was the assistance received from others that helped him get through his hard times.  
"We were all depressed a little bit," Concanon said. "It was really hard on my Mom because she was doing the work of two parents. Luckily we have gotten a lot of support from a lot of people."
After dealing with the process of cancer, head swim coach Autumn Cortivo knows how important it is to be there for other people dealing with cancer by raising money and listening to their stories.
"When you go through chemo you literally feel like death," Cortivo said.  "It is so horrible that you wonder why you are doing it to survive. It is nasty, nobody should have to do it"
The swim team raised over $4,200 and the event as a whole has raised over $200,000.  Swim Across America St. Louis started 3 years ago and has hit their 450 swimmer capacity for the first time.
"I am elated," Cortivo said. "I'm excited to see the amount of money that has been raised today."
Finishing the swim surrounded by fellow teammates, Conway and Concanon knew just how important this was for everyone struggling with cancer.
"Emmett's story is one that is very personal to me, but there are countless stories and people that have been affected," Conway said.  "So this event gave me great insight on what it means to be there for others."
You can donate now Here!

About the Writer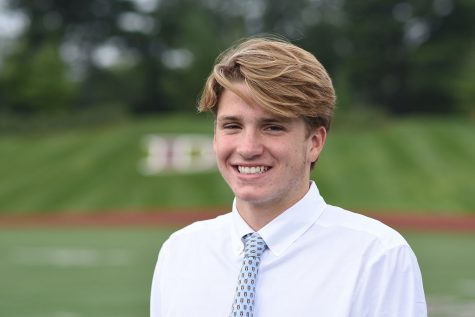 Jay Dolan, Editor-in-Chief
Favorite food:
Ice cream

Hobbies:
video games, water polo, growing own food

Favorite fast food place:
Five Guys

Never shower for the rest of...