Ace to the face
The count was no balls and a strike. Patrick Origliasso, a junior at the time, was hunting fastball. The next pitch left the pitcher's hand and headed straight for Patrick's head. He froze. THUMP! The ball connected with his face. Everything went numb and all he saw was black as he collapsed to the dirt. He was right, it was a fastball.
Last year on March 9, during a loss to Lafayette, Origliasso was struck in the face during an at bat. He broke four bones in his face, including his cheek and jaw and would need facial reconstruction surgery to repair his nose.
"I didn't feel any pain at first, but I could tell something was wrong with my face," Origliasso said. "I never thought that it was serious enough to require surgery though."
He was forced to miss the majority of the baseball season as the surgery kept him on the bench for five weeks. He was able to return at the very end of the year, and even collected a hit in his first at bat after returning.
"My friends and teammates were what helped me make a comeback," Origliasso said. "My teammates especially kept me positive while I was out and my friends still make jokes about my crooked nose to this day."
He has played in the baseball program all throughout high school and has developed great friendships along the way. He and Senior Luke Burns have played baseball together for eight years.
"When Pat first got hit, the game immediately became irrelevant to me and I only cared if he was ok," Burns said. "I have known Pat my entire life, so when he went down I feared the worst."
Hitting a baseball is widely considered to be one of the hardest and most mentally challenging tasks in all of sports. A hitter has mere milliseconds to react, as even high school pitchers are throwing close to 90 miles per hour.
Origliasso will return to baseball at the end of the basketball season, as he looks to pick up where he left off last year.
"Even after returning last year, I still struggle to get back in the batter's box," Origliasso said. "I'm going to give my Senior season everything I got even if it is hard knowing that bad things can happen at any moment."
About the Contributor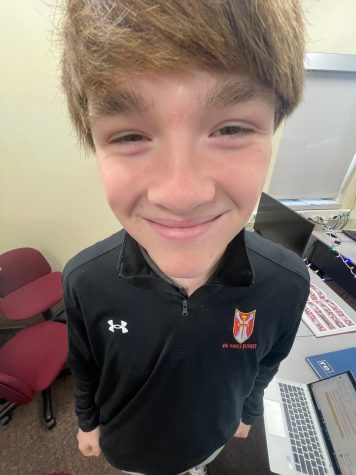 Drew Whitaker, News Editor
Lacrosse

Spartans for Heroes

Saints fan

Rockhurst '27