New house competition brings positive change
The House system has always been a staple of student life at school allowing students to compete in competitions with the goal of building brotherhood and school spirit. This year the Student Council (STUCO) decided that it was time for a change and implemented a new four-house system where houses compete in monthly competitions. A future competition coming in the spring will be a March Madness-like Basketball tournament with as many teams as possible.
"This is my first year in STUCO, and I was put in charge of the house system," Senior STUCO member Andrew Farrar said. "I feel like we really took it and ran with it. We made so many changes, as we wanted it to be something that kids can look forward to every week with friendly competitions."
Every home room belongs to one of four houses named after Jesuit saints: Brebeuf, Gonzaga, Ricci, and Xavier. Rooms 100A, 101, 102, 103, 107, 111, 113, and Admissions are all members of Brebeuf house. Rooms 114, 115, 117, 118, 119, 120, 121, 123, 317, and 318 all belong to the Gonzaga house. Rooms 300B, 303, 304, 305, 306, 307, 308, 311, 312, and 314 are all from the Ricci house. Finally, rooms 204, 205, 210, 211, 213, 214, 216, 217, 220, 221, the Pohlman Center, and Campus Ministry make up the Xavier house.
"I think what we started this year is going to build a foundation that we can do for years and years to come," Farrar said. "I hope to come back to De Smet and see that this thing that I started has flourished."
Not only are houses competing in athletic competitions to test strength and teamwork skills, but also to help the community with fundraisers like the Ignatian Challenge Food Drive. Even though students are still competing as teams, they can still come together to help out the community.
"I love that I get a say in what games and activities the houses compete in, and I hope we come up with some events that students will participate in and really enjoy," Senior Cole Erusha said. "I believe that students will be really excited with some of the future competitions we come up with, especially the big basketball tournament."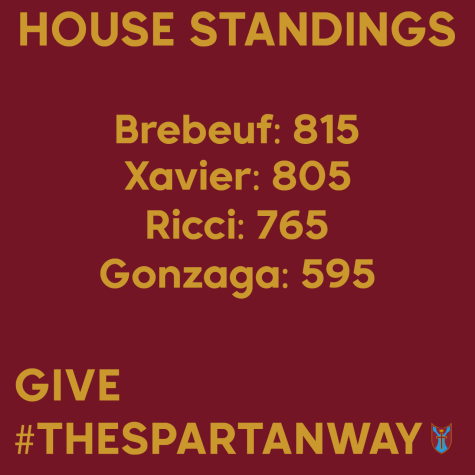 After students were randomly placed on teams within their house for the first two house competitions, STUCO has decided to make a change and allow students to pick their own teams as long as students play within their own house.
As of Nov. 16, Brebeuf is currently leading the pack with 815 team points, after the house gained the majority of their points by placing first and second in the September football tournament.
"I will say that there will be a very big prize for the winner of the house competitions at the end of the year, but for now it's a surprise," Farrar said. "Right now Brebeuf holds a slight lead, but it is still early and a lot can change."