'Mom' to thousands calls it a career to be a full-time grandma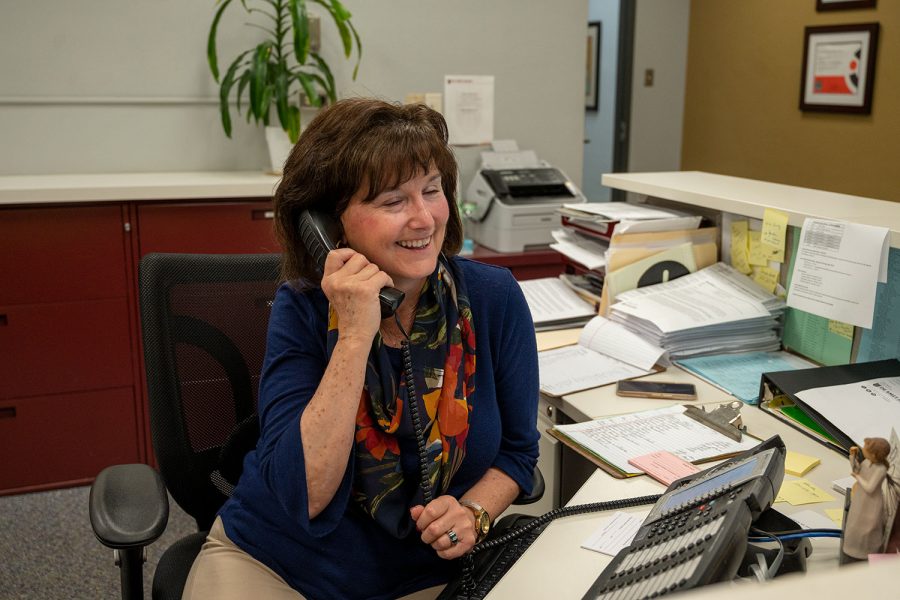 Receptionist Michele Neary takes care of all the phone calls, attendance, buses, and anyone who walks into De Smet. After 25 years, she hopes to change her focus to her grandchildren. Neary will be retiring from her position at the end of this year.
Neary first came to work at De Smet when her son was a sophomore.
"I have a son that graduated in 1999, the other in 2003," Neary said. "The opportunity came that I could come work at their school, so I said 'Okay.'"
After her children graduated, Neary decided to stay at De Smet for an extra 19 years.
"She loves the mission, she loves taking care of the school, and she just really has a soft heart for raising boys," Assistant to the Principal Jen Rothermich Said. "She was a perfect fit."
Neary will be attending the retirement party on May 26, to which anyone who wishes to visit with their current or past teachers is invited.
"
It's been a pleasure to work for De Smet. It's a great school, and I have really fond memories. I've enjoyed watching 25 years of boys go through here."
— Michele Neary
"She knows some of the students that are her former students' sons," Rothermich said. "She knows many generations of Spartans and alumni and it's sweet when they remember her."
Being a receptionist at De Smet across generations, Neary has heard lots of false stories from students trying to take the day off.
"One student called and said that he would be absent, he was acting like he was his dad," Mrs. Neary said. "And I knew that his dad was hearing impaired. So when we called him back, he was on the Metrolink going to the Cardinals game."
Neary hopes to spend more time with her six grandchildren, three of which live in Denver.
"I'm so excited that she can spend time with her family, especially those grandkids," Rothermich said. "25 years in the same place is a very long time."
Neary has affected an estimated 28,000 students in her time here, taking attendance every morning an estimated 4,400 times.
"It's been a pleasure to work for De Smet," Neary said. "It's a great school, and I have really fond memories. I've enjoyed watching 25 years of boys go through here."