What De Smet thinks about fast food
Results of fast food poll sent to students, faculty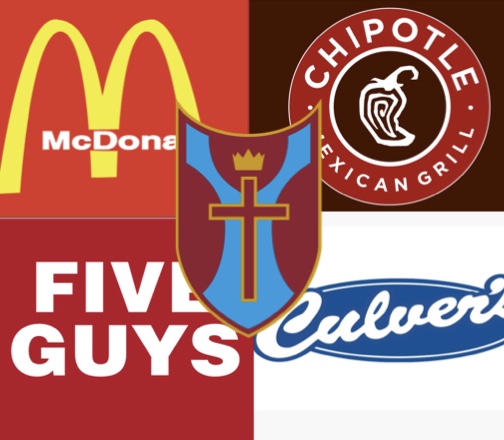 De Smet has voted on their favorite fast food establishments with 188 votes. With 45 seniors, 39 juniors, 27 sophomore, 36 freshmen, and 41 faculty members there was a large number of varying opinions.
The first poll was about how many times De Smet eats fast food. With 181 votes a 1-2 times a week got 141 votes, 3-4 times a week got 34 votes, 5-6 times a week got 2 votes, and 7 or more got 4.
With 186 total votes in this category, Five Guys won best burger. Five Guys received 35 votes with the next two runner ups being Culver's with 29 votes and Freddy's with 21 votes. Five Guys use a regular patty on a toasted sesame seed bun while Culver's use a butter burger and regular toasted buns. Third place is the most unique fast food burger Freddy's who uses smashed burgers or more precisely for them the lacy edge burger on a toasted bun.
Best fast-food fries with 186 votes was dominated by McDonald's with 59 votes and Chick-Fil-A's waffle fries with 47 votes.
Best chicken is next and the clear winner with more than half the votes (99) was Chick-Fil-A.
The next vote was best sandwich. It was a four-legged race but the ultimate winner of the race was Lion's Choice with 32 votes, followed up by Jimmy John's with 26, behind that was Subway with 24 votes, and Gioias with 23.
Next up is best Mexican fast food with the winner being Qdoba with 52, then Taco Bell with 49 votes, and in third place was Chipotle with 41 votes.
The last category is best dessert and not surprising for anyone in Missouri, Ted Drewes won with 68 votes, followed by Andy's with 32, and Dairy Queen came in third place with 21 votes.