Album review: Jesus Is King
An in-depth review of Kanye West's new album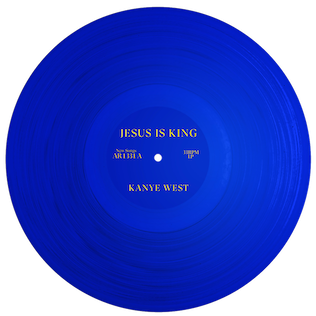 Drew Hollman, Staff Writer
November 11, 2019
Jesus is King is a hip hop/rap album and is Kanye West's ninth studio album released on Oct. 25.
Kanye West was born on June 8, 1977, in Atlanta and was raised in Chicago. He has a long list of albums and productions with nine studio albums, two collaborative studio albums, two live albums, three video albums, and four mixtapes. His career started in 1996 when he became a producer for Roc-A-Fella Records. He was very successful with his songs Runaway (feat. Pusha T), Flashing Lights, Jesus Walks, and Stronger. These are a few of the songs that initially got me into West and his style of music. They brought me into his music and made a big fan of him. When I listen to a new project from Kanye, that is the quality that I compare it to. He completely deserves seven of his studio albums to go platinum because they are some of the best hip-hop songs I have heard. His recent album titled Jesus is King has a shortlist of features, which are mostly lesser-known artists, such as Clipse, Kenny G, Fred Hammond, Ant Clemons, Ty Dolla $igh, and Sunday Service Choir. Kenny G and Fred Hammond are lesser-known in the hip-hop game, but better known in the gospel music world. Fred Hammond won a Grammy Award for Best Contemporary R&B Gospel Album. West's new album is his first to be classified as religious music. West has always rapped about religion in the past, and this was very exciting and a much waited for project.
While this album had its moments of greatness, it fell short in many places. The opening song was a good intro and went right along with the topic of the album. When listening to most of the songs, I didn't get anything out of them. The lyrics all sounded the same. A lot of them sounded very similar to each other, and after listening to multiple in a row from this project, I got very bored and was desperately looking for different songs to play. The beats were very interesting and different. I liked a lot of them, but some just seemed out of place and funky. The message I got out of listening to this was that we can put our faith into Jesus and God and he will protect us from evil. I get where he is going with this and I like the idea of this, but I do not believe it should have taken him eleven songs to make this point, maybe two or three.
The songs that stand out to me are On God, Follow God, and Use This Gospel (feat. Clipse & Kenny G) because these songs had the best lyrics and the beats stood out to me the most. They kept me listening closely to what West was saying. They made me feel the message of the album the most. A very disappointing song is Water (feat. Ant Clemons) because it sounds so boring and the song is very repetitive of itself. Another disappointing song is Closed on Sunday. The hook of this song ruined it for me. West referred to Chick-Fil-A and how he orders a number one with a lemonade. This song was very corny didn't follow the same theme as the other songs in this album.
Best Songs: ON God and Follow God
Worst Songs: Water and Closed on Sunday
Overall album rating: 4/10