Students pack gym for early morning liveshot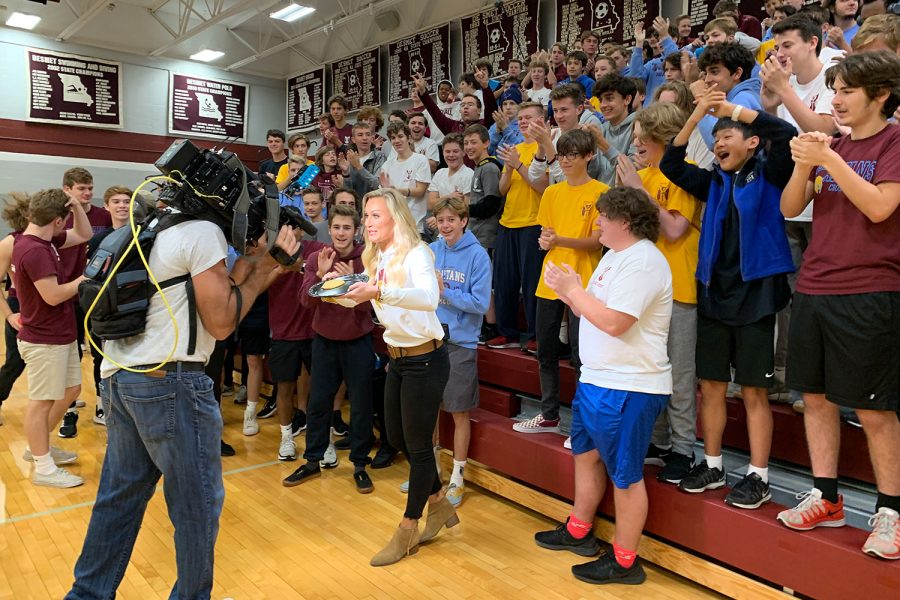 Students standing in the bleachers crowd around the huge TV camera and students squeeze their way past people towards the camera in hopes of getting in the shot. As the cameraman counts down the seconds till the start of the live broadcast, anticipation builds up and the excitement in the room can be felt. A light shines on and instantly the whole crowd begins to get rowdy as they cheer on De Smet in front of an audience of hundreds.
Fox 2 News broadcasted live this morning on campus as part of the "Pep Zone," in which they highlight a different area high school every Friday.
"We didn't know what to think. We typically go to bigger schools and De Smet isn't as big as some of the schools we have showcased," Fox 2 News reporter Katherine Hessel said. "You guys absolutely brought the energy of a big school."
Students started showing up at 6:30 for the first live shot and stayed till the last shot at 7:30.
"I didn't know what would happen, I didn't know how many guys would show up or how many students would be here," Hessel said. "You guys were wonderful and you followed instructions so well, because there are a lot of instructions and a lot of moving parts"
During the off times, students participated in a variety of events including dodgeball, knockout, and a half-court shot contest.
"The presence was fantastic, the energy was fantastic." Sports and Spirit moderator Alex Hall said. "Guys weren't sitting down or standing on their phones, they were engaged they were having a good time." 
During the broadcast, students were featured and interviewed, including senior Jack Burton who was asked about the school spirit.
"It was pretty cool to be on TV and to support the school," Burton said. "It was amazing, everyone there wanted to be in there, everyone was excited, everyone was loud, it was cool to be apart of it."
This is all in preparation for the homecoming football game tonight at home at 7. The team goes into this game as the number one team in the state, 23rd in the nation with an undefeated record of 6-0. 
"I am extremely grateful to our student leaders and the student body for showing up and rising to the call of being here early to do something fun," Hall said. "to let all of Saint Louis see how much spirit we have what our brotherhood looks like letting all of Saint Louis see what De Smet really is."