A special kind of athlete
Hang on for a minute...we're trying to find some more stories you might like.
Youngest kid on the team, but still one of the best. Thomas Redmond is a sophomore and plays on both soccer and basketball's varsity teams. He isn't just a guy on the team, he is a key contributor to both teams. He has been on the varsity basketball team since he was a freshman and he made the varsity soccer team this year.
"It's awesome to be able to play these sports at the highest level high school offers," Redmond said. "The teams I have been on have been great, I couldn't have asked for better ones."
Although to some, it seems like playing two varsity sports would seem to be a lot of fun, but it is a lot harder than it seems.
"Playing two sports in back to back seasons is really time-consuming," Redmond said. "There are a lot of different workouts I have to do to be able to play both."
His first year playing basketball, the team was going through a "rebuild" phase. Along with Redmond, they had a lot of underclassmen on the team so it was a tough first year for him.
"I didn't play that much last year because I was a freshman starting to learn the system of high school basketball," Redmond said. "But being able to play this year on a really good team and be able to help was amazing."
Along with being on the basketball team, he was on a soccer team that made it to the state championship.
"Playing soccer with all of those guys this year was great," Redmond said. "We were a great team and even though we came up a little short, it was a great experience."
Being in those big moments, seeing the atmosphere, a player is bound to make memories for a lifetime.
"I've made a lot of memories this year playing on the basketball and soccer team have been great," Redmond said. "But I think my favorite one is when I scored two goals against Chaminade to tie and win that game, that was awesome."
Playing two sports back to back can be tough, you will need help transitioning from one sport to another. Not just working out physically, but having people around you who can help you succeed.
"Coach Williams and my dad have really helped me be able to play both sports," Redmond said. "Coach Williams has been very patient and accepting about the fact I play soccer. And my dad was and is always there to help me whenever I need him."
When a sophomore is playing on a varsity sport, especially ones like basketball and soccer, they are not expected to take a big role, but that's what he did.
"This year has been awesome for me and I never could have expected it," Redmond said. "The guys I played with are my brothers now and I couldn't ask to be a part of two better squads."

About the Writer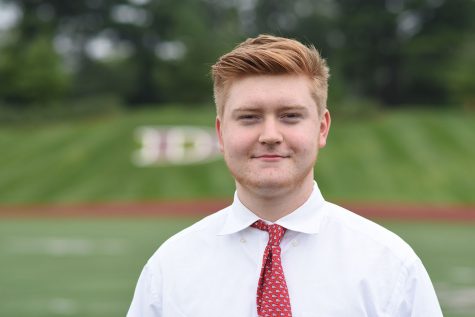 Cameron Range, Staff Writer
Favorite food:
Pizza


Hobbies:
Being a sports manager


Favorite fast food place:
Chick-fil-A


Never shower for the rest of your life or...