From the director's chair
The Seniors of the Dionysian Players step off the stage and take the director's chair, sharing their experience and knowledge with their shortened One Acts. These select group of Seniors take charge and see what it's like to sit on the director's chair. These Seniors have been in plenty of shows themselves and the student-directed One Acts is something they look forward to which were held March 25 and 27.
"The Seniors have to read through a bunch of scripts, pick their own play, hold auditions, cast their group, hold rehearsals and direct them, get costumes/tech/set design, and then put them all together in a series of different One Acts," senior Senior Camden Brazile said. "We have to sit in the director's chair and experience life from outside the stage."
Although this is something they look forward to, One Acts is very difficult because they must be the visionaries to see in each actor what is needed for each scene. The seniors work on this for about six weeks and on average, hold about three rehearsals a week.
"It gets really taxing sometimes because you watch the same play over and over again, and sometimes you can't figure out what's wrong or sometimes there seems to be too many things wrong," Brazile said. "It's also difficult because it's your friends you're working with, but you're trying to take a more professional approach."
Senior Jack Laurie directed an act from a play called Break Out, which closed the show. At most, these Acts can be about 20 minutes long.
"I was really lucky, I got a bunch of experienced guys in my One Act, so they understood how the process works of being in a play, memorizing lines, and working in characters, so I only had two rehearsals a week," Laurie said. "The only challenge I had was keeping the less experienced few up to speed with the others."
For those who enjoy acting and have no problem with intensive rehearsal, the Senior-directed One Acts is a place where seniors can earn leadership skills and have fun.
"I've helped direct scenes in Mr. [Chris] Welling's acting/improv class before and it was a blast," Laurie said. "This is the first time I got to try it out on stage for a real audience, for real people and it was really cool to piece together."
About the Contributor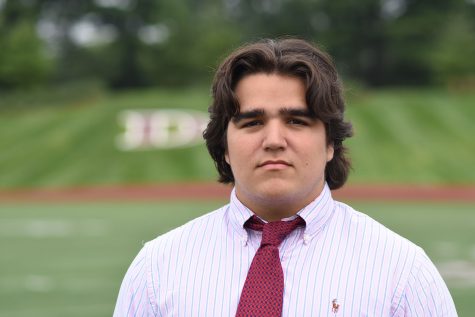 Gave Helm, Staff Writer
Favorite food:
Burgers


Hobbies:
Video games, sports, politics


Favorite fast food place:
Culver's


Never shower for the rest of your life or never brush your teeth?
never brush teeth