Robotics seeks national attention
The DURT (De Smet Ultimate Robotics Team) has applied for the Chairman's Award for the first time that, if won, would send the team to the Robotics World Championship.
"We applied because we were already doing the necessary stuff to win the award," team captain Jacob Deighton said. "We thought it was time to try and win it."
FIRST (For Inspiration and Recognition for Science and Technology), considers the Chairman's Award the most prestigious award. It is awarded to the team that best models the mission of FIRST. The goal is to inspire respect and honor for science and technology, as well as leading the youth to do so as well.
"This is by far the highest award you can earn," robotics coach Anthony Strawhun said. "It embodies the ideals we have here at De Smet, such as men for others."
DURT has already been practicing the mission of FIRST and the Chairman's Award before even trying to earn it. Throughout the season they outreach to the community by being mentors to the kids as well as bringing in professional mentors. DURT also helps out other teams when they are struggling.
"We do this stuff in the first place because it goes along with the Jesuit ideals," Deighton said. "We want to help out the community and inspire kids to get into robotics."
The award requires an essay, an interview, and a video that highlights all of the things they do that go along with the mission of FIRST. After submitting a group of students must present and be judged against all other teams that applied. After the judges will decide on the team who should earn the award.
"I wanted to create this video because it allowed me to showcase the team that it never allowed me to do before," Connor Pohl said." We should win because our team lives out the mission of FIRST every day."
About the Writer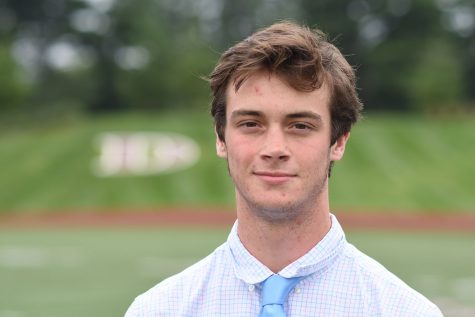 Nick Einig, Web Editior
Favorite food:
Hot wings


Hobbies:
Long boarding, snowboarding, and running


Favorite fast food place:
Canes


Never shower for the rest of your life or never brush your teeth?
Never shower