Drew Brees is the G.O.A.T.
Hang on for a minute...we're trying to find some more stories you might like.
With the NFL regular season heating up, fans have seen many impressive young quarterbacks make their mark on the league this season. Unlike players like Patrick Mahomes, Mitchell Trubisky, Deshaun Watson, and Baker Mayfield. New Orleans Saints quarterback Drew Brees is continuing to leave his mark on the NFL at age 39. Drew Brees is the greatest quarterback of all time.
After Tom Brady won his fifth Super Bowl, fans and sports analysts started to debate if Brady was the greatest quarterback of all time. Others still said Peyton Manning was the greatest because of his two rings and insane statistical seasons. While some would say Aaron Rodgers because of his impressive football IQ, although he's only won one ring. This debate has since continued, but people have almost forgotten about Brees. If you factor out winning championships and only focus on his performance at the quarterback position, he is statistically the best to ever do it. Earlier this season Brees became the NFL all-time leading passer currently at 73,707 yards. Brees also has the highest completion percentage all time (67.3%) and holds the record for the most yards per game in a season (342.3 yards in 2011). He's currently at 518 career regular season touchdowns putting in second all-time and most likely he will become first if he decides to play a couple more seasons. In addition to these, he also holds 12 other NFL records. In Bree's thirteen seasons with the Saints he's led the league in one major statistic (passing yards, completion percentage, passing touchdowns, or QB rating) in twelve of them. The only season he failed to do this was 2013 when he threw for 5,162 yards (sixth highest total all time). No NFL quarterback has thrown for more than 5,000 yards more than once expect Brees. He's done it five times. Unlike Brees, Brady has failed to lead the league in a major statistic in ten NFL seasons as a starter. Manning has done so in nine seasons, and Rodgers eight times.
It's crazy to think that the 11 time pro bowler has never been named the NFL MVP. Besides just leading the NFL in many statistics, Brees has also coveted the biggest trophy of them all:The Vince Lombardi Trophy. It's only fitting that he also led his team in a comeback to win the game. Drew Brees is a true leader on and off the field. And we he finally hangs up his cleats and calls it quits. We should definitely not leave him out of the conversation for the greatest quarterback of all time.
About the Writer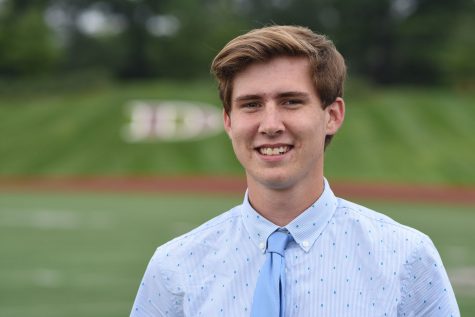 Brennan Dolnick, Editor-in-Chief
Favorite food:
Chicken and rice

Hobbies:
Golf, hanging with friends, watching sports, and video games

Favorite fast food place:
Taco Bell

Never shower for the rest of your life or never brush...