Sophomore gains experience from starting own business
A loud whirr fills the room, as he turns on the machine. A laser singes the block of wood in front of him as three very fine letters appear.
Sophomore Sebastian Martin has his own laser engraving business in which he personalized unique everyday things such as wallets, phone cases, glassware, personal storage boxes and other items for the home.
Sebastian and his brother, Alex Martin, who graduated last year from De Smet, started Etch Brothers about two years ago and have had steady customers ever since. Before that, the brothers had a small company called Woof Works, which sold their work mainly to pet owners, using laser image photos of family pets, but Etch Brothers proved to have more interest.
"
I love giving someone their product and seeing the joy on their face.
— Sebastian
Their company is a laser engraving gift company that started as an idea. They have products in stores and boutiques around the St. Louis area and sell through their website, http://etchbrothers.com. They are also on Twitter and Facebook @etchbrothers.
"My brother and I do it ourselves," Sebastian said. "It's been a really good experience, to get to learn how a business really works in the real world."
Sebastian and Alex's idea started in 3D printing but upgraded to the laser six months into Etch Brothers. Since Alex is away at college, Sebastian has to do most, if not all, of the work by himself. That work includes working the boutiques, hand engraving the gifts, and interacting with the customers. Alex tries to help as much as he can with the software side of things. The brothers even have a graphic designer who works with their father.
"We started with 3D printers and what we liked about 3d printing was the personalization that you could do with it, with the files and stuff like that," Sebastian said. "But the material that it was putting out wasn't quality enough that we wanted to do so we bought the laser engraver."
Sebastian enjoys the business side of things and having to find things out on his own such as margins, the cost of a product, and how to ship their products out. Sebastian always has to be thinking of new ideas as well. He has made special De Smet themed items that have been sold at different school events.
"We have to keep it fresh and keep on the trend," Sebastian said. "I'd like to grow into more corporate gifts, like doing stuff for people's families as a gift and to a whole business rather than just individual things."
Not only does Sebastian obtain joy from the success of his company, he loves talking and listening to the customers, because of hearing the stories they have to tell. The brothers preach customer service and it pays off in smiles and as a bonus, future orders.
I love giving someone their product and seeing the joy on their face, I really try to make a great relationship with everyone that I meet.
He has also learned that forming relationships with people grows his business. Sebastian partners up with other businesses around the St. Louis area through the boutiques he works.
"They really helped me just as much as I helped them," Sebastian said. "It gives me a real feeling of kind of like achievement, that I've done something and I've helped someone else, and brought joy into their life, it just makes me feel really good cause I'm helping someone else out but I'm also learning."
Most nights Sebastian doesn't get home until 10 p.m. and if he is home, he is hand engraving the products in his basement. It sometimes takes away from family, friends and school work. But his parents support him no matter how much time he spends on the business. They love the experience he is getting and his works. So as of this moment, Sebastian will continue to slip on his safety goggles, turn on the machine, hear the loud whirr, and make people smile.
"It's a really enjoyable experience," Sebastian said, "cause I get to help others while I'm learning myself."
About the Contributors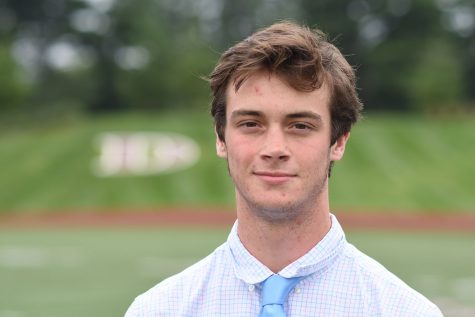 Nick Einig, Web Editior
Favorite food:
Hot wings


Hobbies:
Long boarding, snowboarding, and running


Favorite fast food place:
Canes


Never shower for the rest of your life or never brush your teeth?
Never shower