Students react to verdict in Stockley trial
In reaction to this morning's not guilty verdict for former St. Louis police officer Jason Stockley who was accused of first degree murder in a high speed chase in 2011, school president Corey Quinn halted the Big Draw fundraiser assembly today.
Instead, Quinn talked to the gathered students, during which he told them to "shut up, and listen," in which he meant that students should be attentive to one another and understand what some people are going through.  
"This is one of the times in which our community is in disarray and we have to say something about it," Quinn said.  "This whole thing makes me feel stressed out, it makes me anxious, it makes me concerned for the students, and the world that you guys are inheriting and I'm trying to find where God is in all this. In these moments of desolation God is trying to tell us something. It's one way God is telling us that something isn't right here, so we've got to acknowledge it."
"
We shouldn't have to strive to be here if we are disrespected every day."
— Jacobe Blakemore
Quinn said the school itself wants to stand together and comfort the students in this time of need. They don't want it to be an administrator telling students how to feel, they want it to be between students talking about the elephant in the room.
"It would be easier to just say everything's cool and ignore it, but the first step [for coming together] is to start calling things out, whether they're in the outside world or inside these walls," Quinn said. "The worst thing we can do is be silent. We all benefit and we all grow from conversations."
Director of Diversity Catalina Martinez held two small group meetings today in the gym to listen and communicate with the students about how it made them feel and to help them understand what's going on. Martinez said there will be another meeting for kids who still need to process it sometime next week.
"This is something our community is living and this is a chance to come together," Martinez said. "We need to give students the time to process some of this, it was trying to meet the needs of students."
Sophomore Jacobe Blakemore said it hurts him to see that some people don't care about what's happening and don't try to be sympathetic.
"They more or less try to make jokes about it," Blakemore said. "It makes us feel unimportant because they don't care about what's happening. Sometimes you gotta think about other people and how it affects them because we have to strive to be here at De Smet and we feel like we shouldn't have to strive to be here if we are disrespected every day."
While students discussed it on campus, dozens of protesters walked the streets of downtown St. Louis. Multiple news sources reported that many protesters were pepper sprayed by the police and some were arrested for blocking buses and damaging police vehicles.
"I think the protests are justified and they have a right to be there," senior Jack Shea said. "I get that people are upset but violence is never the answer. Community leaders need to be at the front lines of these things and organizing the people, and that's how you really show a government you're upset and that things need to change."
Senior Darrian Sandoz said that it shouldn't take events like this to get people to come together as a community.  
"Everyone's story is different and when you learn that story you get to learn that person better and everybody's story is worth being heard," Sandoz said. "That can change a person's life forever."
About the Writer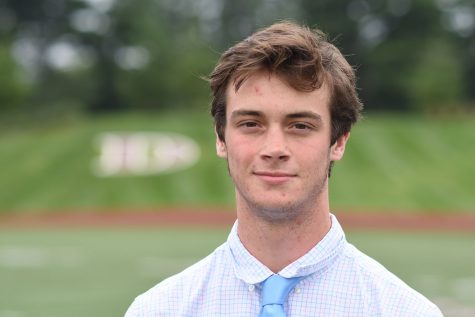 Nick Einig, Web Editior
Favorite food:
Hot wings


Hobbies:
Long boarding, snowboarding, and running


Favorite fast food place:
Canes


Never shower for the rest of your life or never brush your teeth?
Never shower