Protesters speak out about Trump's election
Dana has lived in Indiana all her life, but now she feels that her community could be turned against her.
"I knew that people sometimes didn't like me when they saw what I was wearing or that I was Muslim," Dana said, "but I never was actually afraid to go out and walk just by myself."
She, along with hundreds like her, came out to protest in front of Indiana's Capitol today in order to make their voices heard. Dana believes that President-elect Donald Trump has set the bar for the hatred that she now has to endure. She feels like a target and fears becoming a victim.
"Nowadays I actually do have those thoughts going into my mind," Dana said. "I think, 'I could be another one of those people that I'm seeing on the news and that I could be a victim of one of these hate crimes."
Dana and her two friends, Sara and Leena, fear that Trump could destroy their worlds and the lives they built.
"Even if we can't make a change, we at least want to make it clear that we are not ok with [Trump's comments]," Leena said. "We are not going to sit back and let things be said about us that we don't agree with."
Many of the protesters hoped to promote a sense of unity in their opposition. Their demonstration stood up against xenophobia, racism, misogyny, homophobia and anything else they feel is associated with Trump.
"Sometimes people don't want to show their fear or show their emotions," Sara said, "but I think that now it's a real thing and a real threat that we have to stand up against."
Ryan Leffer, another protester at the Trump rally, focuses on Trump's message of rebuilding America. He hopes that he and all his fellow protestors can use their voices to make a difference.
"Hopefully there will be a change in the country," Leffer said. "With Trump, if he wants to make a better America, he needs to include all of America."
Protestors across the country have spent the last week trying to spread a similar message. Some, unlike those protesting peacefully in Indiana, have taken to extremes: breaking into businesses, smashing windows and causing chaos. David Martin hopes that their peaceful protest serves as an example to others.
"These people have the right to be here, this is a good protest," Martin said. "The people that the other protests are hurting, they are hardworking Americans like you and I, what did they do to deserve that?"
Despite her fear, Dana finds the courage to come out and protest because she knows that her words are important and feels privileged to be able to share what she thinks with the rest of the world.
"If we're not able to take advantage of that privilege, then what are we doing?" Dana said. "We can't complain if we are not actively doing something about it."
Resistance rally in Indianapolis happening now #LoveTrumpsHate #CountryOfKindness #TrumpProtest pic.twitter.com/UjuncGUzy1

— et (@elitry) November 12, 2016
About the Contributor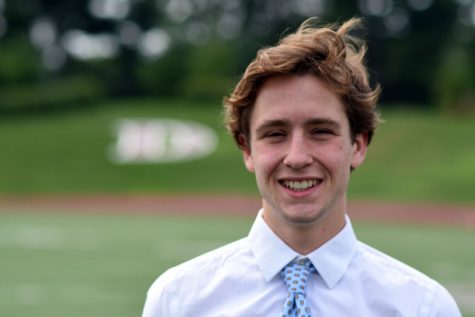 Brendan Johnson, Editor-in-Chief