Fantasy football has saved the NFL in St. Louis
St. Louis is truly the ultimate sports city with the fan favorite 11-time world series-winning Cardinals, the 2019 Stanley Cup Champion Blues, and the 2023 debuting St. Louis City Soccer Club commanding the hearts of die-hard fans. Although St. Louis sports fans don't have much to complain about, they can't help but reminisce about cheering for the St. Louis Rams before they relocated to Los Angeles in 2016. You can't blame the city of St. Louis for having hard feelings about the NFL, but there is one thing that keeps fans watching the sport that ripped their hearts out not long ago.
With no team to cheer for and really no reason to watch the NFL at all, Fantasy Football has kept the city of St. Louis engaged more than ever. You can't go through a class at school or scroll through social media without hearing about how someone's fantasy football team is performing that given week. If you're a fan of football at all, chances are you are a part of at least one fantasy football league, whether it is kids playing with their friends or grown-ups playing with their coworkers.
Although football is a sport almost anyone can watch and have a good time with, it is just not the same if you have no one to root for. With fantasy football, fans can turn on nearly any game and watch intently if a player from their fantasy team or the team they are playing against is on the field.
Not only has fantasy football been great for fan entertainment and involvement, but it also benefits the players by seeing support from fans who have no relation to their NFL team. Players who aren't exactly the star of their team can have their names recognized and remembered as fans will watch weekly to see them perform and rack up fantasy points.
Fantasy football detractors argue that it has taken away fans' integrity of the game by rooting for individual players as opposed to hometown teams. This is incorrect because if someone is truly a diehard fan of a NFL team, they will always put the success of that team ahead of their fantasy team. Instead it has only increased the amount of fans that support the NFL.
Without fantasy football, the majority of St. Louis sports fans would have no incentive to watch and support the NFL. The city would watch their beloved Cardinals in the Spring and Summer, and would pack the ice for the blues in the Winter, but there would be no room in the hearts of St. Louisans for football.
About the Contributor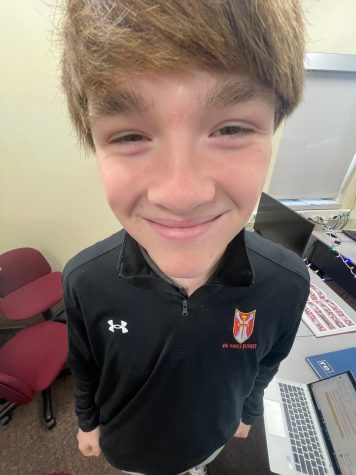 Drew Whitaker, News Editor
Lacrosse

Spartans for Heroes

Saints fan

Rockhurst '27