Senior goes fishing to establish school's newest team
Hockey is a fast-paced, high-contact sport that feeds off adrenaline and offers very few breaks in the heated action. In between his time scoring goals and skating around opposing teams, Senior Mitch Geiser escapes from it all by going fishing.
"When you're fishing, you're not thinking about anything except fishing," Geiser said. "All your cares in the world and stress go away."
Fishing has not only offered Geiser time to get away from the hockey action, but also spend valuable time with his dad, who is one of the team's boat captains and coaches. 
"I've been fishing ever since the day I could walk," Geiser said.  "My dad was big into fishing.  [He] grew up on the river and he was always fishing."
Geiser has brought his love of fishing to De Smet and is the captain and founding member of the newly created Bass Fishing team.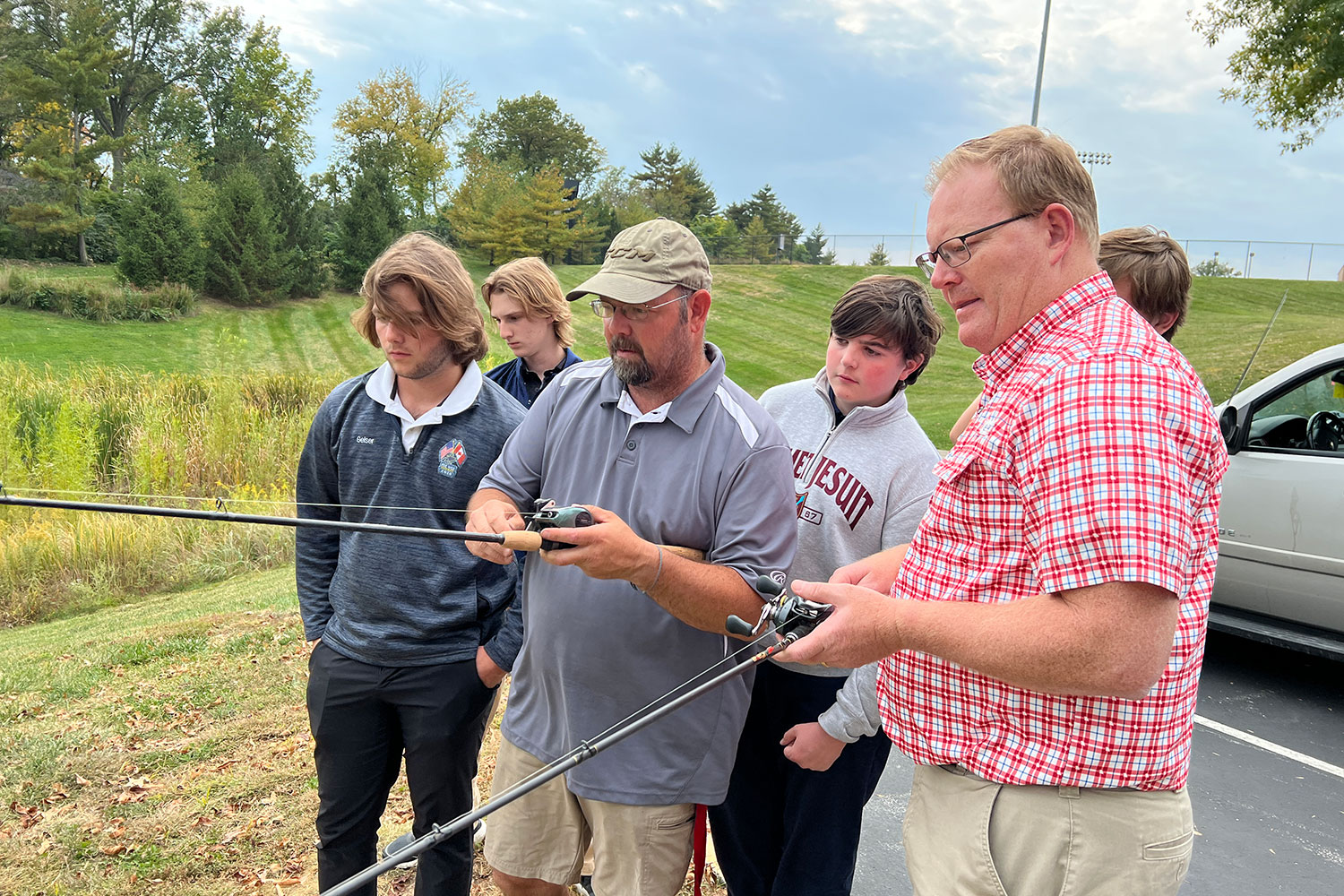 Publications adviser Kevin Berns '87 is the coach/club moderator of the Bass fishing team and club.
"I lived in Texas for 18 years in the heart of the bass fishing world," Mr. Berns said. "I knew it was a [Missouri State High School Activities Association] emerging sport and thought it was something De Smet should have."
The National Youth Fishing Association (NYFA) bass fishing season is March-June and the team has already started to prepare.
"We are preparing by organizing our gear, figuring out what we need and don't need," Berns said. "We are practicing techniques to cast because most of the competition is casting. Our biggest challenge is finding enough boats for guys to compete."
They currently have two boats and are looking for more. Any parents or alums with a boat who are interested in being a captain for the team should contact Mr. Berns at [email protected]. 
The team has outings set up for October and November and is practicing after school every Tuesday at the pond in front of the school. 
"I would like to be remembered as the guy who built a strong team from nothing," Geiser said. "I would say if [students] have any free time they should join, even if they are not already fishermen."