Spartanfest dance returns to the gym Saturday
This year's Homecoming Dance, a long standing tradition known otherwise as the Spartanfest Dance, will take place this Saturday from 7:30 pm to 10:00 pm. The dance will wrap up a week of various house activities, themed dress down days, and the homecoming football game against Vianney.
"You students are so fun to watch at dances," Student Council Moderator Alex Hall said. "To get to see you guys just let loose, have fun, dance, be ridiculous, that is just a cool moment for me as a teacher and a moderator to get to see that build up to a lot of fun."
After a three year hiatus, the Spartanfest dance will be held in the gym. The theme for this year's dance will be "A Night In Hollywood," where students can walk the red carpet, take Hollywood themed photos, and participate in other festivities.
"I'm excited because although my freshman homecoming dance was in the gym, students didn't get a homecoming during my sophomore year," Student Council member Will Huggins said. "Also, for my junior homecoming we were outside in the courtyard which makes it more difficult to have decorations. Inside, we can put up lights on the ceiling like they did in the auction or those big drapes we had at the latest all school mass."
Tickets can be purchased in the Ticket Box Office on the school website for $30 per couple and $15 per individual. All students are encouraged to come and are more than welcome to bring a date or friends as long as everyone has a ticket.
"You never know how a friendship can build with one person," Mr. Hall said. "You know, I have a guy who I am still friends with, he even texted me last night, and we only knew each other a little but we didn't become good friends until we went to a senior dance together."
About the Writer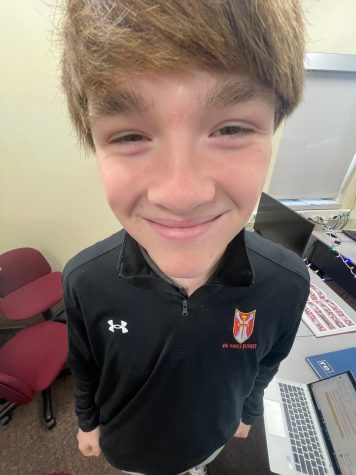 Drew Whitaker, News Editor
Lacrosse

Spartans for Heroes

Saints fan

Rockhurst '27