Up the Orgs returns after three year hiatus
Clubs and groups across the school will meet in their club moderator's classroom on Wednesday from 10:00 to 10:40 during an extended activity period for Up the Orgs. The event will give students the opportunity to see what kinds of extracurriculars are offered at the school. Students can go from classroom to classroom to learn about each club in order to sign up for what interests them the most.
"It's a chance for all the clubs to kind of give their pitch to the students," senior and Student Council member Danny Grisham said. "Especially for freshmen and sophomores who maybe haven't seen all the clubs."
It has been several years since the school has held Up the Orgs so to make this one count each club will have their own classroom along with a student representative to explain the club in detail, and hopefully persuade a few potential members into joining. Coach Hall will send the list for each club participating in Up the orgs to each student's email, along with the classroom they will be meeting in during the extended activity period.
"Being in a club can help you explore your interests," said junior Graham Labonte, who is a member of several clubs including Asia Club, Model UN, and Admissions. "I wanted to be a lawyer so I did Mock Trial, and now I know that I don't really want to be a lawyer anymore, but I still like the club."
The school is home to over 60 clubs, and most if not all of them will be represented at the Up the Orgs event. Students also always have the option to potentially create their own club if they have enough people interested and can find a faculty member to moderate the club.
"I think clubs give you the opportunity to meet kids who have the same interests as you and get along with kids that share the same interests," Grisham said. "If you have a kid that shares similar interests with you, it's easier to be friends with them."
About the Writer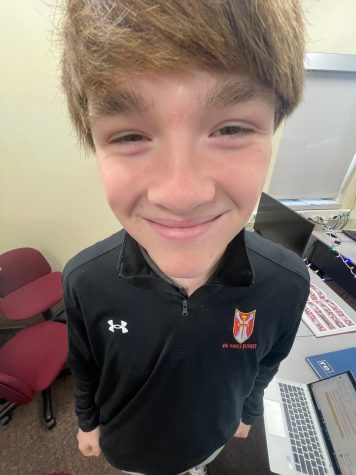 Drew Whitaker, News Editor
Lacrosse

Spartans for Heroes

Saints fan

Rockhurst '27