Jeffery remains best trap album of all time
2016 was quite the year. We lost well-known celebrities in David Bowie, Carrie Fisher, Prince, Muhammad Ali, George Michael, Gene Wilder, and many more. We lost Harambe, Pokemon Go took over your life for a few months, and you are still dreading the Cubs' World Series win. Need I mention that it was one of the greatest years for music in recent history? Just to name a few: "Blonde" (Frank Ocean), "Life of Pablo" (Kanye West), "Coloring Book" (Chance The Rapper), "Lemonade" (Beyonce), "We Got It From Here… Thank you 4 Your Service" (A Tribe Called Quest), "Views" (Drake), and "A Moon Shaped Shaped Pool" (Radiohead), just to name a few.
To introduce my hot take, I must give background on the genre of trap. Trap is a genre of rap meaning trending rap. Trap is more easily described as rap that uses more predominant synthesized drums, typically consisting of few instruments when creating the beat, and typically contains much less lyrical value than regular rap. Trap founding fathers include T.I., Three 6 Mafia, and UGK. Now that my history lesson is over, my hot take: "Jeffery,"  Young Thug's 2016 masterpiece, is the greatest trap album of all time. Less hot take; it's the greatest cover, too.
Before "Jeffery," Young Thug had released eight decent, but not great albums. He was on the verge of something great coming off his early 2016 release "Slime Season 3." He then cemented his name as a trap-great when he released "Jefferey" in August of the same year. There are many incredible trap albums, don't get me wrong; "Rodeo" is Travis' lofty ceiling, but has a significant amount of filler between its works of art. "Astroworld" won't age well but is still euphoric. "DS2" (Future), "Not All Heroes Wear Capes" (Metro Boomin), "I am>I was" (21 Savage), and "Die Lit" (Playboi Carti) are all incredible projects that struggle to match Thugger's creativity.
"
The beauty of "Jeffery" isn't the lyrics, it's the confidence that Young Thug shows, exploring new sounds."
Speaking of creativity, a theme of "Jefferey" is people whom Young Thug draws artistic inspiration from. "Wyclef Jean" is where we start our 42 minute, 18 seconds journey. Off the bat, we are introduced to the most addictive trap beat of all time. Thugger spits over a reggae-style guitar beat; a nod to one of his heroes and the namesake of this first track; Wylcef Jean. Thug's metaphors for the large amount of money he's attained include; "Okay my money way longer than Nascar race," and "New feng shui for the boys." Rarely does flaunting sound this immaculate. "Wyclef Jean" is one of the greatest intro songs in rap history.
Following this flawless lead-off song is the first posse-cut of the album; "Floyd Mayweather." I would argue that this is probably the easiest skip on the album, but that means little on such a tremendous project like this one. Gucci Mane, Gunna, and Travis Scott are all featured, and each feeds off one another's energy when going bar for bar.
Next up is "Swizz Beats," named after the producer who is most known for his work with DMX and Jay-Z. Thugger begins to introduce an overarching theme of JEFFERY in "Swizz Beatz;" self-love. We are made known that "Jeffery" is Young Thug at his highest confidence level. "Future Swag" is nothing but a seductive trap cut. Lyrically, Young Thug is spitting out Non-Sequiturs like he's the star of a cartoon show. Sonically, Young Thug has never sounded better.
Thug's next track, "RiRi," is inspired by Rihanna. In "RiRi," we first hear the sheer diversity of Young Thug's voice. The almost screech-like sound is all over the Atlanta-native rapper's hook while he references Rihanna's hit; "work." We follow "RiRi" with the second of three posse cuts on the album, "Guwop," this title is inspired by one of the original trappers; Gucci Mane. Gucci Mane tagged the phrase as meaning "God, unity, wisdom, opportunity, and power." Featured in "Guwop" are Offset, Quavo, and Young Scooter (who is also affiliated with Migos, primarily as a producer). "Guwop" is a lowkey, yet unskippable song; Wheezy's production makes the five-minute track seem short. Each verse is better than the last, wrapped up with  Young Thug's earworm of a hook.
Possibly the greatest three-track run in trap history starts with our next track; "Harambe." "Harambe" stands out in Jeffery, this cut sounds unlike any other song you've ever heard, not to mention it's named after the Gorilla who died in the Cincinnati Zoo in 2016. Young Thug screeches, yelps, and voice cracks; yet it's beautiful. It's beautiful because of the confidence Thug shows; he's doing his own thing, with his own swagger, and that's when one makes their best music. Following "Harambe" is "Webbie," another track where Young Thug explores the unforeseen highs and lows of his voice. Webbie is another significant role model of Young Thug, the Baton Rouge native also goes by "Young Savage," a possible inspiration for Young Thug's stage name. Duke, who trades verses with Young Thug, is an exceptional feature on this album.
The last track of this incredible three-track run is "Kanye West." While filled with vulgar descriptions, "Kanye West" is the best sounding track on Jeffery, with melodies, keys, and chorus's galore. Finally, we come to the end of Jeffery; "pick up the phone." The most popular song on Jeffery may not be the greatest closer, but it's a great song. Somehow, with features from Travis Scott and Quavo, this is the least experimental song on the album. The beauty of "Jeffery" isn't the lyrics, it's the confidence that Young Thug shows, exploring new sounds. That is what sets this trap album apart from all others; the diversity of sound, and the experimentation.
About the Writer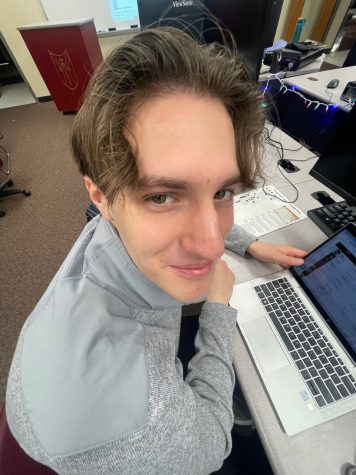 Colby Quinn, Features Editor