Monday Music Review: Unknown Pleasures
Very often throughout history, young musicians have tragically died whilst beginning to reach the stardom that they worked to attain. Jimi Hendrix, Amy Winehouse, Kurt Cobain, Janis Joplin, Biggie Smalls, Tupac, Selena, Sam Cooke, Buddy Holly, and many more lost their lives while just starting to be viewed as superstars. One name that isn't mentioned enough when this topic is introduced is Ian Curtis. The lead singer of Joy Division was 23 when he committed suicide in the kitchen of his Manchester home. At the time of his suicide, Joy Division was on the eve of their first North American tour, something Curtis was extremely excited about. While Curtis's epilepsy was at its most dramatically impactful state, Joy Division was starting to become the biggest story in the music scene.
Joy Division's early work was inspired by the post-punk movement that was heavily backed in Manchester; bands like Iggy Pop, The Sex Pistols, and even David Bowie. Somehow, Joy Division progressed from a shamed band called "Warsaw" (wrongly shamed as they were accused of being Nazi supporters) who created covers of their inspirations with little personality, to pioneering a beautiful "new wave" sound.
"
If the album cover; white pulse waves over a black background, is a piece of art on its own, the music inside is a museum."
The first true album (and dare I say it is the best album?) to come from the Manchester band is Unknown Pleasures. The 1979 album, released by Factory Records, began with the seemingly light hearted "Disorder." Unfortunately, this is a turn away for many people, Joy Division is incredibly dark. Coming to terms with the deeper meaning of Joy Division's work is an essential part of enjoying the band's music. The first track introduces Ian Curtis's themes for the album; his fight against epilepsy, his mental health, and his deteriorating marriage. "Day of the Lords" is an impressive follow up with some of Bernard Sumner's greatest work on the guitar, and Ian Curtis asking: "when will it end?" "Candidate" is an analogy of a man who seems to be making an effort to run for political office; but is actually describing the troubles of winning over a woman's heart. "I tried to get to you, oh I tried to get to…"
"Insight" is the darkest song on Joy Division's cult classic. The fourth track on the album consists of Ian Curtis' easiest-to-interpret lyrics in the whole album. It's unfortunate that the song that is the easiest to understand contains the acceptance that Ian Curtis has for his early death. It's unfortunate that there was such an incredible amount of ignorance displayed towards the meaning of the lead singer's lyrics. "New Dawn Fades" is a truly epic moment on this record. Over some of Peter Hook and Bernard Sumner's greatest works on guitar, and that signature Stephen Morris drums sound, Ian Curtis talks about the demise and loss of connection between him and his wife; Deborah Curtis. "She's Lost Control" is about a woman who had an epileptic attack in front of Ian Curtis, a song he most likely wrote before he was diagnosed with epilepsy. I must add that the genius of adding an echoing effect to Curtis' voice for this song was nothing short of brilliance.
"Shadowplay" contains debatably the best instrumental on the entire album. From the fading guitar riffs to subtle sound effects to create a sound that lacks emptiness; everything works together to create a beautiful song. The eighth song on the album; "Wilderness," brings about another subtopic of the album: the dangers of organized religion. Ian Curtis speaks about the unjust treatment of those who defy religious laws, and the tears that those people have shed ("I saw the tears as they cried, they had tears in their eyes"). "Interzone" is not only the shortest track on the album, slightly above two minutes, but also is the least complex when it comes to interpretation. The lyrics, this time sung by Peter Hook, contain deep references to the 1959 book; Naked Lunch by William S. Burroughs. The album's closer (this is an unfortunately atrocious pun referencing Joy Division's second, and final album "Closer"), "I Remember Nothing," is so. It's so obvious that Ian Curtis is losing will to live and his deteriorating marriage is coinciding with his rapidly deteriorating mental health; but few paid attention.
While only releasing two albums, Joy Division inspired a new generation of music; from Radiohead to U2, Depeche Mode to The Killers. The wonder of how high Ian Curtis and his band could fly will never be discovered; a true shame. The three remaining members of Joy Division succeeded in the creation of a new band; New Order. New Order has had great commercial success, and remains active to this day. Rarely does New Order play songs from their Joy Division days while in concert. A true shame. Maybe we could learn something from Ian Curtis and his music. We may see truth in his words; maybe love will tear us apart.
What is your favorite genre of music?
Sorry, there was an error loading this poll.
About the Contributor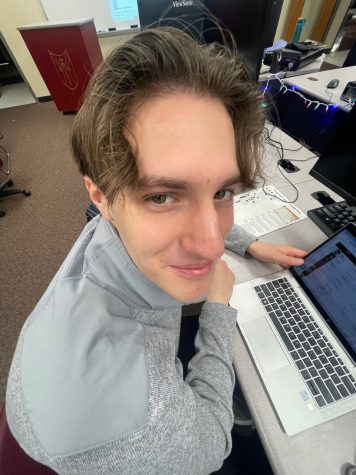 Colby Quinn, Features Editor