Redemption
Soccer team clinches sixth state title after 13 rounds of penalty kicks
"Get back to Soccer Park." Those were the words spoken by Head Soccer Coach Josh Klein at the beginning of the season. He had a vision for the team to go back to the very field where they lost the state game against CBC last season.
"Redemption was one of the words the team picked as the theme of the year, get back to that game," Klein said. "There were enough kids on that team last year to remember that feeling."
Going for their second title in school history, Lee's Summit was undefeated going into the state championship and had never trailed in a game all season.
The State Championship game took place on Saturday and after 110 minutes the score remained 0-0 and the game headed to penalty kicks.
"
I feel the same way I feel every year. Confident in the kind of program we are."
— Coach Klein
"It was a nervous feeling, but a good nervous feeling," senior captain Jacob Roschke said. "I knew we wouldn't lose, I knew this was our year."
13 rounds of penalties ensued in the long string of goals and misses. Henry Lawlor scored the game-winning penalty kick and senior goalie Connor Mulvaney secured the win with a save, leading them to an 11-10 victory over the Tigers.
"I knew it was going to be close and I had a feeling we would go into PKs," Mulvaney said. "We have been preparing for PKs all season. When the first guy stepped up I knew we were going to win and although that took 13 rounds, we got it done."
At the beginning of the season, this outcome seemed unlikely. After losing 17 seniors and only having six returning starters many looked to this year as a rebuilding year, but Klein had other plans.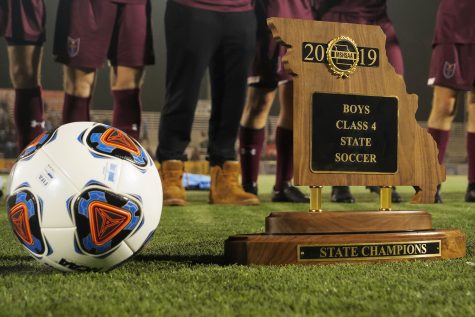 "I feel the same way I feel every year," Klein said at the beginning of the season. "Confident in the kind of program we are."
The soccer team finished with a record of 18-4-1 and tacks on another state victory, the sixth in school history (1991, 1993, 1995, 1997, 2011, 2019).
"Pure happiness, it was an amazing feeling to rush the field and celebrate with my teammates," Roschke said. "This year we got it done and there's no better feeling."