From the archive: Drowsy driving
A reminder a about how getting enough sleep can cause fewer accidents.
November 25, 2020
The blast of the oncoming car's horn was the only alarm clock that Matthew Meyer '17 needed to wake up.
"I easily could have gotten in a crash," Meyer said. "Who knows where I would be know, who knows who I could have hurt just by dozing off at the wheel."
With what little energy Meyer had, he tried to fight through the sleepiness. He made it home safe that night, but many people in his situation do not.
"The number one cause of death in young adults is car accidents," Kerrie Warne said. "And you're more lik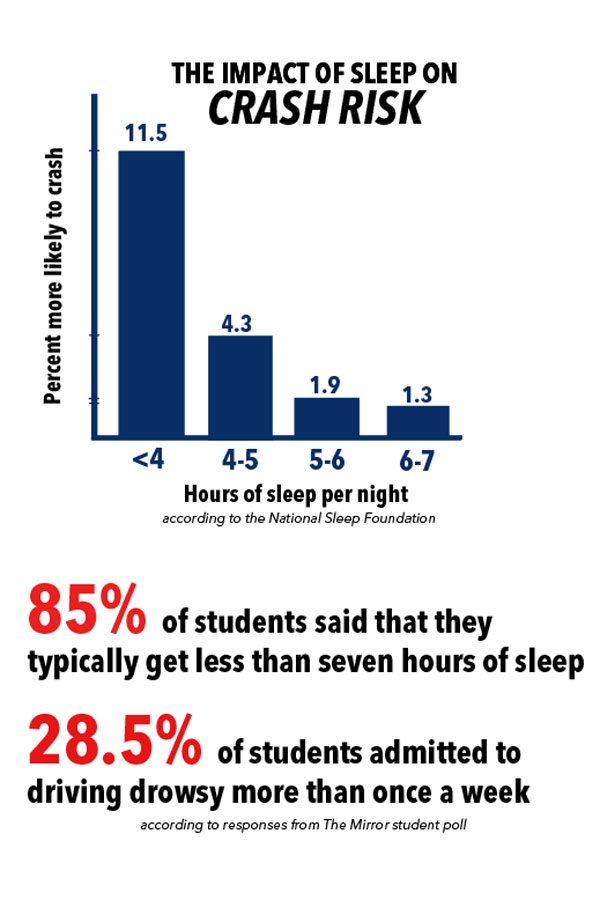 ely to die in a drowsy driving accident than in any other accident you can be involved in."
Warne's son Tyler, who attended Parkway South High School, was one of them. He fell asleep while driving at 2:50 p.m. on March 19, 2010. His car flew off the road and rolled down a hill until it hit a tree, killing him.
Drowsy driving was the sleeping threat that Warne never saw coming.
"We discussed drinking and driving, texting and driving, even loud music and other distractions," Warne said, "but for me, as a parent, I didn't consider that the amount of sleep he was getting would affect his driving."
After Tyler's death, Warne started a foundation called Tyler Raising Education / Awareness for Driving Drowsy (TyREDD) to help teens learn about the dangers of drowsy driving. She gained national attention for her presentations about the growing issue of drowsy driving.
One in five drivers on the road is too tired to operate a vehicle. To put that into perspective, the risk of driving with only 4-5 hours of sleep is estimated to be the same as driving with a blood alcohol content of 0.08, above the United States set legal limit.
"That is not only putting your own life in danger," Warne said, "but by not doing yourself the service of getting enough sleep and driving the next morning, you are endangering those around you."
The results of a recent student poll cited that 85% of students get less than seven hours of sleep, putting them at greater risk of getting into car accidents. Drowsy driving is becoming a bigger issue each year, especially for younger demographics. The deaths, however, are preventable with proper education and knowledge; education that Warne hopes everyone can get.
"If we can save just one life, one family from losing a child or loved one to drowsy driving," Warne said, "then my son did not die in vain."