Through the cold
Despite freezing conditions, this group must prepare for what is next
Stepping outside, he enters the polar vortex. The freezing winds begin to penetrate his jacket as he looks around at the newly whitened ground. As snow trickles down his neck, he questions his motives. Then, he remembers his team. He remembers that they are counting on him. He takes a deep breath of the crisp, winter air, and starts his daily trek through the cold.
"It's like stepping into a freezer," senior Dan Hussman said. "It sucks at first, but you get used to it as you go."
Since November every weekday, seniors Dan Hussman, Alex Voelker and Assistant Varsity Track Coach Adam Boehm run around 7 miles a day in temperatures as cold as ten degrees. Though others will accompany them, none have been as consistent about running as these two students, said Boehm.
"You know when you wake up but you don't want to get up? It's like that," Boehm said. "But you get up and you deal with it."
Running in the cold can be much harder on your lungs than running in normal temperatures. Many times the cold causes runners to breathe the dry air through their mouths instead of first through their nose. Boehm believes that running in the cold is like weighted training, and that it's very important because it'll improve fitness and stamina for the runners. But Boehm always keeps the runner's safety in the back of his mind before going out.
"There's been several times where it just wasn't safe for us to go out there," Boehm said. "On those days we've just had to stay inside and work on the ellipticals or treadmills."
All three runners believe that running in a group is very important to their motivation and success. They are able to hold each other accountable each day by showing up, and they help ease each other's minds by being together on the course.
"The comradery is super important," Voelker said. "Danny and Coach Boehm help make the time fly by. We spend most the time just talking about random stuff to ease our minds off the pain of running in the cold."
All three runners share a common goal to why they run. Firstly, they want to improve their personal fitness so they can perform well year round. And secondly, they want to help set an example for the rest of the runners that also need to work out in the offseason. Voelker and Hussman believe that these runs will pay off big time entering track season.
"Although challenging, if I didn't run for those three months, it'd be like starting over again every season so I do my best to avoid that," Voelker said. "The runs give me a good base to start off on for the next season."
About the Contributor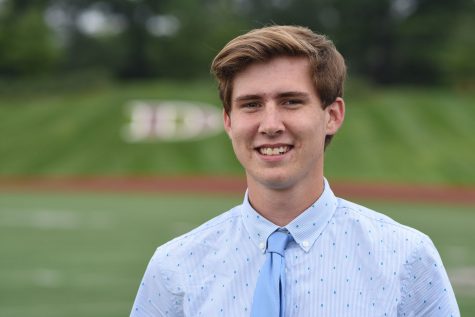 Brennan Dolnick, Editor-in-Chief
Favorite food:
Chicken and rice

Hobbies:
Golf, hanging with friends, watching sports, and video games

Favorite fast food place:
Taco Bell

Never shower for the rest of your life or never brush...