Senior Josh Lindell named All-American
He has worked his whole life to get to this moment. Senior Josh Lindell joins an elite class of high school athletes to become an All-American.
"I am very excited for myself," Lindell said. "I've been working hard my entire life to get to this point and knowing that it paid off feels awesome."
Josh has been playing soccer nearly his whole life and has always been a little more talented than others. But he doesn't necessarily believe so.
"I never thought I would ever get the opportunity to get this in my life," Lindell said. "I try to stay humble and say there are always things I can improve on."
He has always had his family, friends, and coaches by his side. He doesn't think he would have this opportunity if it wasn't for them.
"I couldn't have asked for coaches in my life. I have had four main coaches who have taught me how to be the player I am today," Lindell said. "I never could have made it this far without my family and friends who have pushed me every day to get better."
He has been playing varsity soccer since his sophomore year. He has been improving every year since thanks to the coaches.
"Coach Klein and Coach Benoist really helped improve my game, but besides that, they taught me how to be a leader on and off the field," Lindell said. "Developing as a leader will help you in the long run, but also in the soccer portion, they helped me become the player and man I am today."
Coach Klein knows Josh is a little different than most players he has coached. He is a good leader and a good guy, he believes there is no one more deserving of this honor than Josh.
"I've had the privilege of coaching a lot of guys in this program, I can't think of many players more deserving than Josh," Klein said. "Josh is the total package. He is great on the field, off the field, he buys into what we are trying to do here, and he is very good at displaying that and communicating that to the rest of his teammates."
Josh has been the backbone of the soccer team's defense since he has been playing on varsity. He plays a lot different than other players play. He sees things that other guys may not see and Klein loves that.
"He plays with a ton of composure, calmness, and vision, he's listed as a defender, and he's done an amazing job at that, but he's also the start of our attack because he can see things forming that will help us generate a lot of our attack," Klein said. "He's great in the air, a great communicator, excellent at tackling and great distribution of the ball."
Now, after the high school season, Josh is looking towards his future, collegiate level soccer. The two main schools he is looking at are Northern Illinois and Bradley University, both in iIllinois but now he has started talking to Depaul and some bigger schools.
"I'm hoping this can be the factor that gets him the recognition he deserves," Klein said. "He caught the eye of several coaches, but since he hasn't made a commitment to a college yet, I think this can be huge for the opportunities that he deserves."
The last All-American soccer player at De Smet was Louis Berra, who won a state championship back in 2011. And prior to him, there were guys Will Bruin and Pat Noonan.
"Josh is in a pretty elite club of guys now," Klein said. "Lots of talent have come through these halls, and everyone is in total agreement he deserves it."
Josh can't wait to find out what he will be doing after high school and where he is going to play at, but for now, he is just happy to be considered one of the best.
"It is so cool to think, I hope it helps in the recruiting process, but I think it is a huge accomplishment for me and my family," Lindell said. "It was awesome finally finding it out officially and I can't wait to see what the future holds."
About the Contributor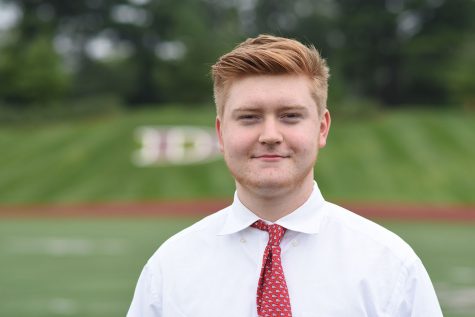 Cameron Range, Staff Writer
Favorite food:
Pizza


Hobbies:
Being a sports manager


Favorite fast food place:
Chick-fil-A


Never shower for the rest of your life or never brush your teeth?
Never brush teeth