A day in the life of President Dr. Corey Quinn
Hang on for a minute...we're trying to find some more stories you might like.
When interviewing Dr. Corey Quinn for the position of president in 2008 at La Salle middle school, the board of trustees asked him where he would see himself in 10 years. He responded, "As the president of DeSmet Jesuit high school." With that, he got the job. Seven years later, he met that goal and was hired as the president of DeSmet.
It is this ambition that motivates Quinn to begin his day bright and early between 6:00 and 6:30 AM, nourishing himself on the way to school with a cup of espresso and a bagel topped with Nutella and sliced banana purchased earlier in the week from the Bagel Factory on Olive Blvd. He arrives at school no later than 7:30 AM, when he begins greeting students.
"I'll say it till I'm blue in the face, the best part of my day every day is standing out in front of Emerson and saying hi to you guys," Quinn said. "I just wish I had more time to be in your presence. It's the best part of my job."
After greeting students, either Principal Kevin Poelker, CFO Steven Burr, Director of Admissions Tim Sullivan, VP of advancement William Rebholz, Director of Communications Debbie Higgins, or Director of Diversity and Inclusion Catalina Martinez will meet with Quinn to discuss events and different negative or positive topics of the school. This group, known as the "Leadership Team," meets collectively at least once a week.
Quinn reports to the board of trustees on a daily basis, often with plans and execution of plans for the future of DeSmet.
Any of the school's external relationships, from thanking donors to managing municipal relations, Quinn ensures everything is running smoothly.
In addition to these professional responsibilities, Quinn sets aside personal time four afternoons a week. He leaves DeSmet for an hour and a half to work out at E3 Performance and Fitness with his guru and trainer, Brett.
"I am not ashamed to put this out there and have the whole world know it, because I think it is a really important part of my health and my ability to lead here," Quinn said. "I come back totally recharged for the second half of the day."


The second half of his day often ends with some sort of function, such as a mother's club meeting, a play, or a sporting event where Quinn's leadership presence is necessary. As captain of two hockey state championships teams in 1989 and 1990, he developed a love for sporting events.

"The highlights [of my job], the high highs, happen during major sporting events," Quinn said. "Those moments for me are the high points because it's like sensory overload of pride."
After returning home to his wife and three kids from a long day at work, Quinn reflects upon his time as president as he goes to sleep.
"I've never dreamed beyond doing exactly what I'm doing right now," Quinn said. "It would be a tremendous gift if I were still here doing this 10 years from now and God willing 25 years. If it is still a good fit, I will be going to be over the moon [with excitement]."

About the Contributor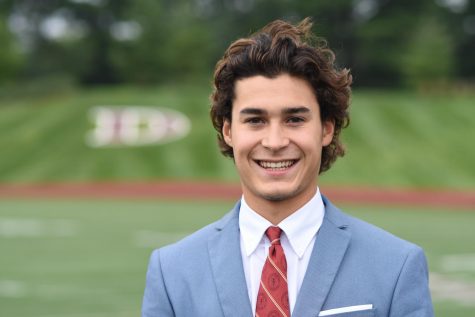 Max Conway, Managing Editor
Favorite food:
Every food


Hobbies:
fishing, being a foodie


Favorite fast food place:
Crazy bowls and wraps


Never shower for the rest...