Senior takes reinventing himself to a whole new level
A tall, middle-aged man silently creeps into the room and politely introduces himself as Larry Stovewader, a professional warm body. Larry explains that he can be hired to make events such as parties, funerals, and weddings look more populated. He outlines his various party packages, which include small talk with other guests about crossword puzzles, "finger games," and his hobby of being an unlicensed laser tag referee. He delivers a long, intricate monologue detailing his entire life, and his passion for populating rooms at a professional level and finally concludes his speech with a meek bow.
"Scene!"
The lights come up to reveal the room as the theater and the real man on stage: Senior Jack Trusler. Trusler is one of many members of Advanced Acting and Directing, a fine arts course taught by Chris Welling, that teaches students the history and craft of improv comedy. In his free time, Trusler enjoys creating his own comedic personas and characters to perform in class. He and his friends will put together various absurd names, occupations, and quirks to create wild and unpredictable characters to use in scenes in class. Trusler is a veteran in the Saint Louis high school Improv and Theatre scene.
"Mr. Welling had assigned that we make an improv character," Trusler said, "and I just had a lot of fun with it using my formula, and I started doing it with my friends and it was just a fun experience and we laughed a lot."
"
I started doing it with my friends and it was just a fun experience and we laughed a lot."
— Senior Jack Trusler
Trusler and his friends have the difficult task of creating a character boiled down to a science. He has a formula that he believes is the quickest way of bringing interesting comedy characters to life.
"We start with three things," Trusler said. "We start a profession, a name, and then using the first two, we usually come up with an emotion."
Using this formula, he was able to conceive numerous names and hobbies, with occupations like "Milk Enthusiast" or "Human Anchor." Trusler keeps an open document with a long list of characters. He often spends numerous hours after school with friends workshopping and fine-tuning the list to make it funnier.
"I was proud that he had taken a significant amount of time outside of class to do that," Welling said. "I think there were elements that show a tremendous amount of promise in terms of further developing and fleshing out these characters at a higher level."
Trusler has used his list of characters to improve being fearless in performance, an essential aspect of performing improv comedy at a high level.
"The whole point of these classes and the whole point of developing one's sense as an improvisational performer is to feel comfortable continuing to push the envelope," Welling said. "If he shows a document like that to anyone it's not going to be perfect, but what is exciting about it is that's precisely what we want to be doing in class."
His main career interests lie in computer science and engineering. Trusler is not interested in pursuing acting and comedy full time.
"I think [Acting and Improv] will help me be charismatic and get jobs," Trusler said. "I feel like I can make the best out of any situation with creativity, and this will help me with thinking creatively as an engineer."
About the Contributor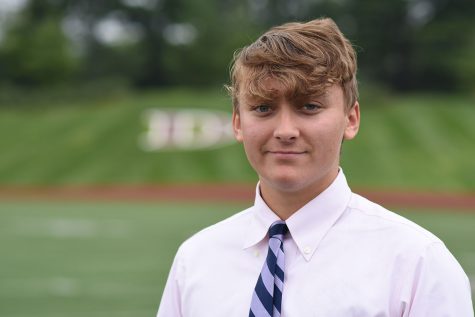 Camden Brazile, Copy Editor
Favorite food:
Banana milkshake


Hobbies:
theater, video games, movies


Favorite fast food place:
Steak 'n Shake


Never shower for the rest of your life or never brush your teeth?
Never...