Everything you need to know about Big Draw
Hang on for a minute...we're trying to find some more stories you might like.
Gentlemen! The 2018 Big Draw campaign is underway. Headed by alumni director Patrick Morris and physics teacher Gene Bender, Big Draw is an online raffle campaign that raises money for student activities and organizations, while giving the chance for students to win money and prizes. Ticket sales will continue through Sept. 14.
"I take a part in Big Draw because I believe in the mission of this school," Bender said. "Christmas on Campus, Special Olympics, these are just some of all the great things that Big Draw funds."
Big Draw is a school tradition that helps raise money for students activities and organizations. This means that all the money students put into Big Draw go directly back towards helping them.
Like in past years the school's goal is for each student to sell eight tickets. If this goal is met administration will call off school October 8. Students can also earn other prizes by hitting ticket goals that start at eight tickets. Hitting these goals can earn them anything from a free admission pass to free prom.
"Currently, we only have 125 students who have hit the eight ticket mark," Bender said. "Additionally we have 400 students with zero tickets sold. That number needs to go down to have a chance of getting that day off."
The winning ticket selection assembly will take place on September 14. At this assembly, the top five ticket salesmen will receive prizes worth up to $500, and the 10 winning tickets will be selected. The winning ticket will earn $25,000 in prize money.
"It is important that we get every Desmet student to participate," president Corey Quinn said. "The funding raised by Big Draw is an essential part of our budget for student activities."

About the Writer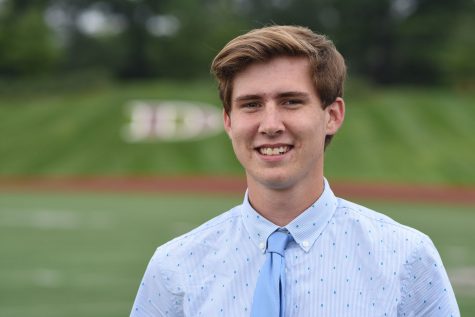 Brennan Dolnick, Editor-in-Chief
Favorite food:
Chicken and rice

Hobbies:
Golf, hanging with friends, watching sports, and video games

Favorite fast food place:
Taco Bell

Never...