10 years of dominance
Finally recognized for their dominance over the past 10 years. The Ultimate Frisbee program have revealed their banner Thursday, April 26. The banner says "Missouri State Ultimate Frisbee Champions" and lists the 10 years that they have won. A couple of alumni who played ultimate frisbee rallied in support and put together a request to Dr. Quinn, and he graciously heard them and agreed that it should be recognized.
"I think part of this is recognition and to say that the sport is here to stay," Varsity Coach Peter Lenzini said. "We have had awesome support throughout the 15 years that we have had a program. We have had more support than really any other school in the area, I am thankful for that, and I am grateful for all students, teachers, and administrators that recognize the time and work they put into this."
The Ultimate program won its first state championship in 2008 and has not looked back. Since 2008, they have won 10 state championships in a row, and this year looking for number 11. This banner will show how dominant this team has been and still is.
"This banner is a great recognition for the work the past players put into this sport," Lenzini said. "I think the school is saying that we are supporting a sport that is unique, because it is a self-officiated sport and there is no outside attendance. There's no other sport like that besides golf, and that's why it is special. I love that the school supports that."
There will be an alumni reunion on Mother's Day weekend where the past players will finally see a banner hung up in the gym, and finally being recognized for what they did for this school and the sport.
"Those first classes, before we won state, they played because this was a new and cool sport, so I think for those guys it will be cool, but those guys would come back without the banner," Lenzini said. "I think they are going to say, 'wow look at this sport grow, this is really cool, we started this,' and I think the banner just seals the deal."
About the Writer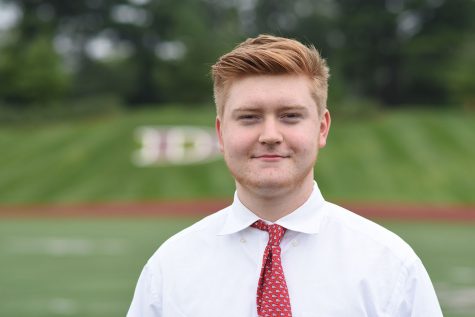 Cameron Range, Staff Writer
Favorite food:
Pizza


Hobbies:
Being a sports manager


Favorite fast food place:
Chick-fil-A


Never shower for the rest of your life or never brush your teeth?
Never brush teeth