The daily grind
Hang on for a minute...we're trying to find some more stories you might like.
He wakes up at 4:30 am, aching in pain from the practice the night before, every ounce of his body telling him to go back to sleep. Ignoring the temptation, he prys himself out of bed. He then drives 30 minutes to practice, just to leap into a cold body of water. He does all this to prepare for a competition that is months away where he will only compete for a few minutes. For some this is crazy, to senior Matt Hillmer this is called the sport of swimming.
After a grueling 6:15 am practice, Hillmer goes home, gets ready for his day and heads off to school. Following school, Hillmer has an afternoon practice every weeknight at MICDS.
"It's a grind," Hillmer said. "I stay motivated by saying 'okay I'm going to college now,' I need to work so when I get there I will be in the best shape possible."
Hillmer joined his first swim team at the age of four in which he swam for a fun summer league. He started swimming for the club, Clayton Shaw Park at the age of six. Then, at the age of eight, he decided he would swim year round.
"At the same time I was swimming year round I also played other sports like soccer and baseball," Hillmer said. "It was probably around 7th grade when I started taking it seriously and only swimming (rather than other sports)."
The thought of working hard over the course of many months in order to achieve success especially attracted Hillmer as he liked the strenuous work that goes into the sport.
"For swimming you will train for five or six months at a time, to only swim for five minutes or even 20 seconds," Hillmer said. "It is the only sport that is not instant gratification."
Picking the Wisconsin Badgers was an easy choice for Hillmer. The swimmers and coaches were very welcoming to Hillmer and made him feel like family. He hopes to return the favor and make a big impact by helping the team out in the big college meets that lie ahead. His specialty, long-distance swimming, will be his focal point in college.
"I enjoy doing distance, there is not a lot of people that enjoy doing it," Hillmer said. "Our coach wanted us to swim 2000 yards warm up, 2000 yards timed, and 1000 yards cool down. Instead I did 5000 yards straight."
In the coming years Hillmer has big plans as he hopes to represent De Smet and the US in Tokyo Olympics in 2020.
"I would love to make it to the Olympic trials." Hillmer said. "I am 15 seconds off (the Olympic cut) for the mile," said Hillmer. "I will probably be going to the Olympic trials in 2020 and try to make it."

About the Writer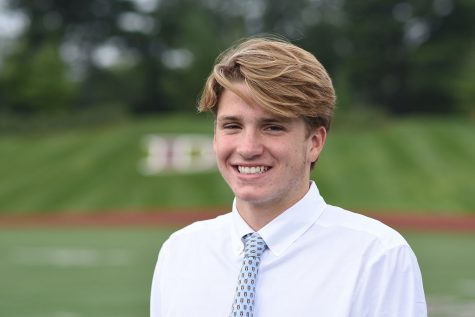 Jay Dolan, Editor-in-Chief
Favorite food:
Ice cream

Hobbies:
video games, water polo, growing own food

Favorite fast food place:
Five Guys

Never shower for the rest of...