Heisman finalists
Hang on for a minute...we're trying to find some more stories you might like.
The 2017-2018 Heisman finalists have been announced. The committee has selected Bryce Love, Baker Mayfield, and Lamar Jackson to be the finalists. The winner will be announced at the Heisman Ceremony this Saturday in New York. Here are the positives and negatives of the finalists.
Oklahoma QB, Baker Mayfield
Positives: Baker Mayfield finished the season as the most efficient passer in the NCAA. He completed 369 passes for 4,340 yards with 41 touchdowns, while only suffering 5 interceptions. He's also a BIG 12 Conference champion knocking off 3 top 25 FBS opponents.
Negatives: Baker found himself getting in trouble twice during the season for unsportsmanlike actions. Baker was forced to apologize after their win against Ohio State because he planted the Oklahoma flag on the Ohio State logo. He also taunted Kansas fans and players verbally and with inappropriate gestures during their matchup.
He has knocked off several top 25 teams that include Ohio State, Texas Christian University, and Oklahoma State.
Louisville QB, Lamar Jackson
Positives: Lamar Jackson was the only quarterback in all of college football to finish the season with over 3,000 passing yards and 1,000 rushing yards. He also complimented that with 42 total touchdowns. He helped his team to an 8-4 record, finishing 3rd in the Atlantic Coast Conference (ACC).
Negatives: Lamar Jackson was never able to defeat a ranked opponent all season. His passer rating also dropped nearly 17% when facing ranked opponents. Lamar seems to be missing a "Heisman moment" from this season.
Stanford RB, Bryce Love
Positives: Bryce Love finished the season off as one of the most efficient rushers against ranked opponents in the NCAA. He's averaged 132.8 yards per game against top 25 opponents with a total of 7 touchdowns.
Negatives: Although Bryce Love has been one of the best running backs in the nation. He didn't finish first in total rushing yards or touchdowns. Even though Love got the spot as a finalist San Diego State running back, Rashad Penny out did Love in every major rushing category.
Although all these players have shown they chance at the Heisman, Baker Mayfield is best suited to win. Baker may have found himself on the wrong side of some controversial showboating this year, but he's still he's been able to prove that he wins the big games. Baker is the only candidate that has won a conference championship, and he's the only candidate that is moving on to the college football playoff this season. He's also shown he's had that defining "Heisman moment" in the Big 12 Championship where he added 4 touchdown passes to their 41-17 win over #15 ranked TCU. Baker's ability, confidence, and swagger on the field this year set him up to win the Heisman Trophy.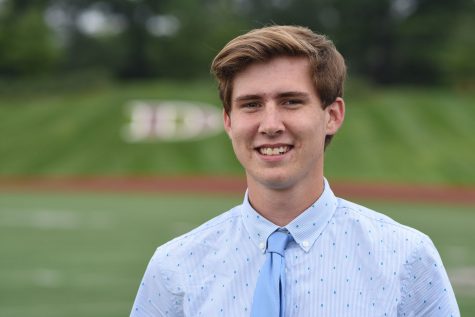 Brennan Dolnick, Editior-in-chief
Favorite food:
Chicken and rice


Hobbies:
Golf, hanging with friends, watching sports, and video games


Favorite fast food place:
Taco Bell


Never...