Teacher testing
Hang on for a minute...we're trying to find some more stories you might like.
Every day students get graded on their homework or how many wrong answers they got on a test, but students never get to tell their teachers how well they are doing. Students have the best feedback on their teachers by being in their classes every day, something the other faculty doesn't have, and the kids should have the opportunity to say if their teacher isn't teaching them right.
Students want to do well in their classes therefore, students should be able to grade their teachers so they can teach the students better.
Teachers being graded by their students allows them to make the changes they need to give their students the best chance success. Using the regular ways of teaching like PowerPoints, note taking, and memorizing things may bore students and might not learn from it because it doesn't keep them interested or excited to learn. Giving the teacher a bad grade on engaging with the class will force the teacher to integrate new ways of teaching that will spice up the classroom. These new ways of teaching will excite students and make them wonder what will they be learning today.
Students are the teacher's best critic. Teachers interacting with students individually is important in a classroom setting. It allows the students to ask questions privately and get a more detailed explanation on how to do something. Being able to grade your teachers on how well they set apart time to speak with everyone individually is important. If the class feels like they need more one-on-one time with the teacher they should say something about it. Students don't want to criticize their teachers upfront, so being able to give them a grade on it will make it easier to let the teacher know how well they are doing.
On the other hand, students are still immature and may grade their teacher in a bad way if they have a personal problem with the teacher. Students also could use the whole idea for their own benefit such as receiving less homework. A way to fix this is not to give the students the freedom to type instead, ask specific "yes or no" questions that don't include ideas for homework or break time.
What should happen is every once in a while the students should be sent an email with their personal schedule and have poll questions on each of their classes with a final question asking what letter grade would they give this teacher. The results of the poll will go back to the teachers, where they will have time to analyze the results and make the changes they need. Teachers may see their "grade" and think it doesn't matter because they think they know what's best, but teachers sometimes need to be humbled and listen to the students.
Students being able to grade their teachers will help them do better in the classroom, create a good relationship with their teachers, and make things more fun for everyone.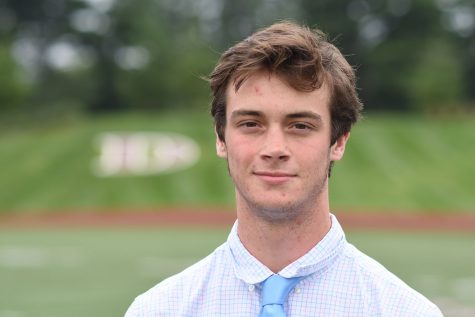 Nick Einig, Web Editior
Favorite food:
Hot wings


Hobbies:
Long boarding, snowboarding, and running


Favorite fast food place:
Canes


Never shower for the rest...