Leonard Jones's Motivation
March 11, 2016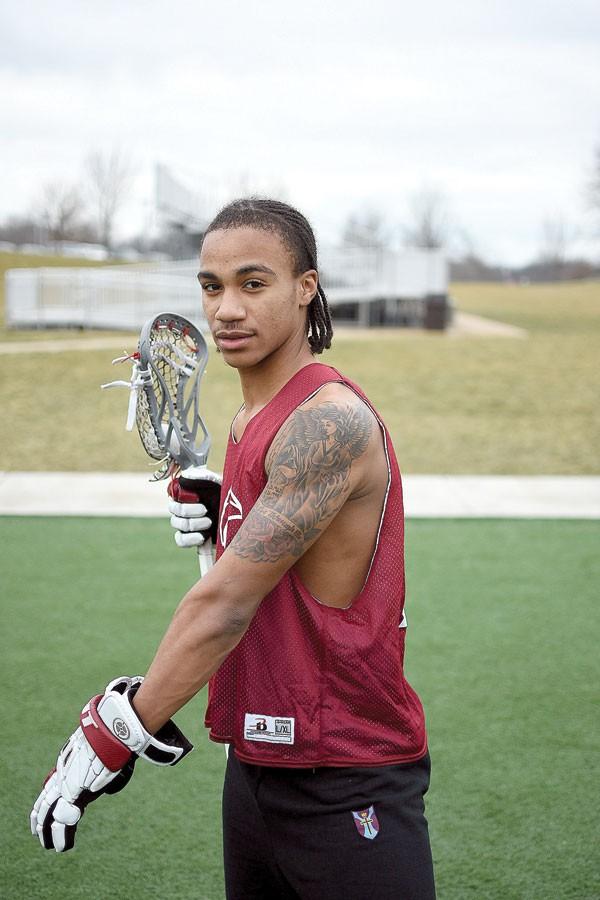 Every lacrosse game, after his pregame prayer, senior Leonard
Jones taps his shoulder in remembrance of what he overcame. When Jones was nine months old, he lost his father. Even though tattoos are painful, he got one on each of his arms for inspiration; one of a boy praying over a grave and one of a lion.
"Just a constant reminder to know that [my dad's] with me," Jones said. "Even though he's not there physically, but to know that he's there with me spiritually and on my arm is something that can keep me going."
Jones' tattoo of a lion is a reminder to him to be the best man he can be.
"Be courageous, be strong-minded, strong-hearted," Jones said. "Something I can live my life by and look over my shoulder and remind me what I need to go by in life."
That motivation is evident in his work ethic. Last year, Jones recorded one of the most points on the varsity lacrosse team.
"I was one of the biggest offensive threats that teams worried about," Jones said.
However, starting out, Jones never put thought into what could have become of his lacrosse career.
"Freshman year, I wasn't even thinking about playing lacrosse in college," Jones said. "I was playing because I loved the sport."
Nonetheless, Jones realized after his freshman year that he had the potential to greatly excel in lacrosse.
"I literally dedicated that whole summer after freshman year to lacrosse," Jones said.
His summer-long commitment to lacrosse resulted in a placement on MO22, a lacrosse team compiled of the top 22 players in Missouri. Jones was given offers from multiple universities while playing for the team.
"To really know that I had the potential to play at the collegiate level was an eye opener," Jones said.
Jones' dedication paid off with a full scholarship from the University of Lindenwood. In addition, Jones was the first in his family to get into a major university.
"For me to start my own legacy was one of my biggest things," Jones said. "And to carry my Dad's last name is something that is really huge for me. I think my Dad would be extremely proud with lacrosse, college and in general. I'm kind of hard on myself so me wanting to do more is always something that I do."