More Than A Jesuit Scholastic
Playing guitar and touring with a band all around St. Louis are not something most Jesuits do, but English and Theology teacher Joe Wotawa was once on stage rocking out in front of hundreds of people before he was teaching in front of a classroom. Wotawa was a sophomore at St. Louis University High School when he had the idea to start a band.
"I was friends with this kid named Alex Ampleman who was walking out of band class with a set of drumsticks and I just and said we're starting a band,"Wotawa said. "I played guitar, harmonica and was backup vocals, Ampleman was the guitarist and his brother was vocals and wrote most of the lyrics."
The band played at different venues all across St. Louis for three years.
"We changed the band name every time we played because we couldn't decide what to call ourselves." Wotawa said. "which could get pretty confusing even for us."
The band played all over St. Louis including Florissant, Kirkwood, Crestwood and the Hill. The biggest venue they ever played at was in front of 350 people at a church sponsored battle of the bands.
"Playing in front of all those people was awesome," Wotawa said. "It was a blast playing all over town, playing at all these places and meeting new people, it really was a great experience."
Wotawa has also used music to help strengthen his faith.
"It has an unorthodox way,"Wotawa said. "I don't listen to mainstream Christian music but, I think free form jazz and a lot of protest songs that have to do with respecting people's dignity is really what helps with my faith."
Since the band has broken up due to the members moving to different cities, Wotawa now plays music on his own time.
"I'm still friends with the bass player and sometimes we meet up and play music together," Wotawa said, "but, now I play music more in private and just sort of do it for fun."
Wotawa is now in his last year of teaching at De Smet. Next year he will move on to theology studies to continue his road to becoming a Jesuit. He plans on getting his masters of divinity at either Jesuit School of Theology in Berkeley, Boston College School of Theology, or Regis College in Toronto.
"When I'm studying I need to do things outside of school so school work doesn't drive me crazy." Wotawa said. "I imagine wherever I go I'll still be playing music."
About the Writer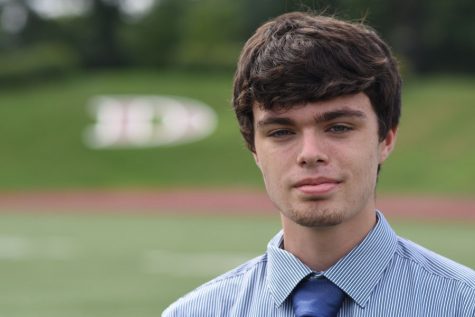 Patrick McHugh, News Editor