Call of Duty Black Ops 4 review
Hang on for a minute...we're trying to find some more stories you might like.
Once again Treyarch has created another great edition to the Call of Duty (COD) Black Ops series with Call of Duty Black Ops 4. Treyarch's new game has decided to ditch single-player campaign and double down on multiplayer by adding a battle royale mode called "Blackout". Black Ops 4 is available to purchase on Playstation 4, Xbox One, and PC.
COD is a 15-year franchise that has been making first person shooters starting with Call of Duty Finest Hour in 2003. COD has taken place in many different eras ranging from World War II in the 1940s to 100 years in the future. Black Ops 4 takes place in 2043.
This years COD features online multiplayer, zombies, and blackout mode. Multiplayer has brought back specialist characters, six of them being from Black ops 3 (Ruin, Prophet, Battery, Seraph, Nomad, and Firebreak), and four new characters (Ajax, Torque, Crash, and Recon). Black ops 4 has also remade five previous fan favorite maps (Jungle, Slums, Summit, Firing Range, and Nuketown) from the Black Ops series. Black Ops 4 has created a quick, smooth, and, dynamic movement system while still maintaining a boots on the ground experience. They have created a new health system that not only shows exact number of health points at all times, but it also uses a manual healing system instead of automatic health regeneration. This is good because it has created more consistent gun fights between players. Also, weapons have been given predictive recoil patterns to further the argument for better consistency. They have also added two fun new game modes to their traditional mode selection. These are control and heist. In heist, teams of five compete to grab a bag of cash and take it to an extraction site. In control, teams attack and defend two different zones on the map.
This year's zombie game play features two epic, but separate story lines. The first story line, "Chaos", features three maps. These are "Voyage of Despair" (takes place on the RMS Titanic), "IX" (takes place in an ancient Roman arena), and "Blood of the Dead" (takes place in Alcatraz Penitentiary). Blood of the Dead brings players back to the original "Aether" storyline from previous black ops titles. It also brings back former characters: Dempsey, Nikolai, Takeo, and Richtofen. Treyarch brought back custom load outs to zombies. This allows players to select starting weapons, and equipment. They also implemented a new competitive game mode. In the new game mode, "Rush", players compete to see who can rack up the most points before death.
The most anticipated new mode, "Blackout", has lived up to its hype. In this mode players can either choose solos, duos, or quads. After that, they drop into the largest COD map of all time and battle it out with a lobby of 100 players until just one player or team remains. Players must use weapons, vehicles, and healing that they find to aid them to victory. The blackout map features a combination of new and old maps from the COD franchise to make up its looting locations. Most notably, "Nuketown" and "Firing Range" are among these locations. The gameplay is similar to the combat style we see in the regular multiplayer, but it also has its own new and refreshing style to it as well. The implementations of armor, different types of healing, and separate optic attachments separate the mode from regular multiplayer. As you level up in Blackout you are able to unlock new characters within the game. You can also complete challenges to unlock fan favorite black ops series characters such as Mason and Woods.
Call of Duty Black Ops 4, like the rest of the Black Ops series, is unique and refreshing to play. The game's new modes, graphics, movement, and weapon consistency are better than past COD games. The only cons are that it's missing a single player campaign and once again the DLC maps are very expensive to purchase. The default version of Treyarch's Call of Duty Black ops 4 gets a 9.5/10.

About the Writer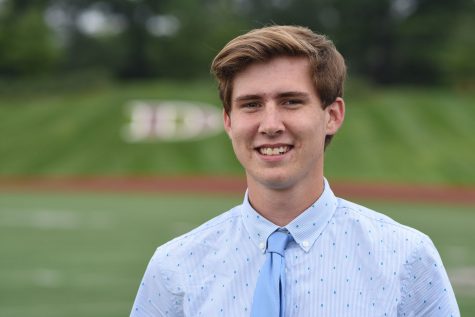 Brennan Dolnick, Editor-in-Chief
Favorite food:
Chicken and rice

Hobbies:
Golf, hanging with friends, watching sports, and video games

Favorite fast food place:
Taco Bell

Never...