14th Annual Father Marco Cup preview
This upcoming weekend the lacrosse team will participate in the 14th annual Father Marco Cup at SLUH. The Father Marco Cup is a lacrosse game between all three De Smet teams including freshman, JV, and varsity of De Smet's and SLUH's lacrosse programs. The tournament was founded in 2005 and has raised over $100,000 dollars over the years. The weekend event will kick off April 28 at SLUH starting with the freshman game at 12, Jv at 2 and Varsity at 4.
There is more to the Father Marco Cup than just lacrosse, it is about bringing the community together according to JV Lacrosse coach and De Smet representative of the team, Robert Hutchison.
"It is amazing to see all these parents coming together," Hutchinson said. "It is great to see how much work they put into it and to see the two school communities togetgreather, it is a pretty amazing sight."
This year both programs hope to raise $10,000 total towards charities in the St. Louis area. Over the years the game has become more and more based around the Jesuit virtues each school teaches its students.
"We now have mass after the game and I think it speaks to the greater good we are doing with the game," Hutchison said. "As much as it is about lacrosse it is about committed to justice, the religious aspect and being leaders in the community."
This year's Father Marco Cup is looking to be very competitive. Junior captain Luke Wetzel is preparing for another great game this year after hitting the game winner last year with 20 seconds remaining to give the team a 10-9 win over SLUH.
"We are looking forward to a good game," Wetzel said. "We have a solid team this year and this game is looking to be tough and physical."
About the Contributor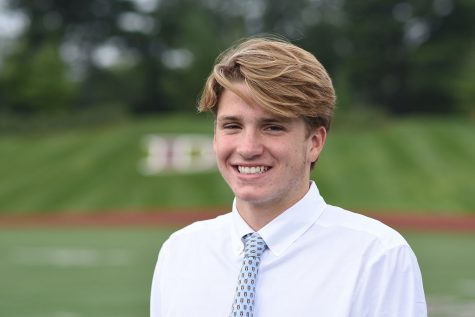 Jay Dolan, Editor-in-Chief
Favorite food:
Ice cream

Hobbies:
video games, water polo, growing own food

Favorite fast food place:
Five Guys

Never shower for the rest of your life or never brush your teeth?
Never shower