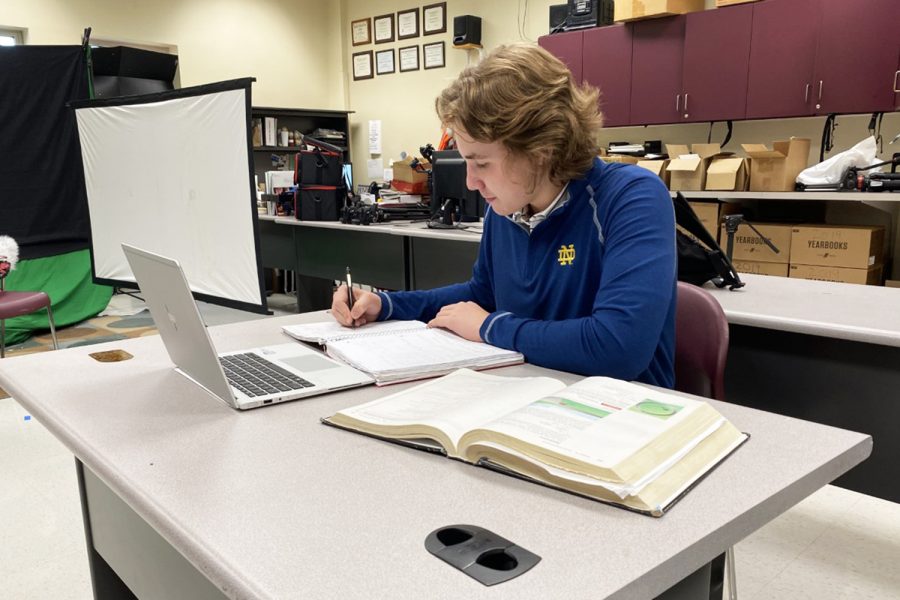 Jack Venneman
The phone rings and nervousness strikes him as colleges are doing everything they can to get him to say yes. He checks the mailbox and finds more and more colleges sending him scholarship info each and every day. It is seen all the time on social media during any time of year, as high school athletes declare their commitment to certain universities to continue their sporting careers.
But senior Michael Cutler is no athlete.
He earned a composite score of 35 on the ACT and has a 4.76 GPA, allowing him to catch the eye of colleges across the country for his academic ability.
"It was a big relief and satisfying feeling to get that high of a score," Cutler said. "I was happy to finally be done with it and move into the process of sending my scores to colleges and start a 'recruitment' process like an athlete."
Students who score high will stand out to colleges, as plenty of scholarship opportunities will arise.
"Students who do very well and score very high can use those test scores to their advantage during the admissions process," College Advisor Dave Boland said. "It's more of a burden for colleges when a test score is not submitted because it means that they have to dig deeper to determine whether a student is admissible or not."
Getting a full-ride scholarship is nearly impossible without a high test score. Even with a high test score, less than 1% of all college students get the opportunity to go to college on a full-ride.
"Getting a full-ride to any college I'm looking at would be something I would have never thought could happen to me," Cutler said. "All the stuff that has been going on with my academics as of late is really putting it into perspective. It is a little mind-blowing to me."
When Cutler took the ACT for the first time, nerves hit him hard, as he made many careless mistakes because he was going too fast.
"Being nervous is something you need to let go of when you're taking the ACT," Cutler said. "It was a big thing that made me realize that stress is going to come with trying to get my scores as high as possible. Once I accepted that, I felt that the time I put in outside taking the actual test would pay off and gain notice from colleges."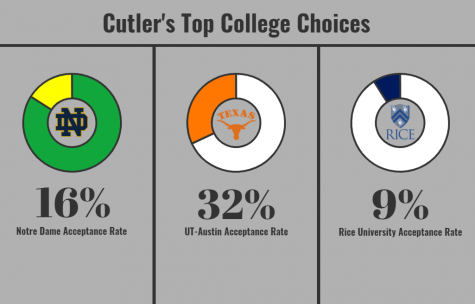 With his scores gaining traction, Cutler is deciding between colleges with acceptance rates under 35 percent. He is looking at the likes of Notre Dame (16), UT-Austin (32), and Rice University (9).
The scholarship applications, countless letters in the mail, and phone calls from college representatives are what make up the recruitment process for students from the academic standpoint.
"I never really thought about it that way until now," Cutler said. "I see it as the equivalent of colleges recruiting a football player for their good athletic ability. But in my case, it's for my academic success which is a cool way to think about it."