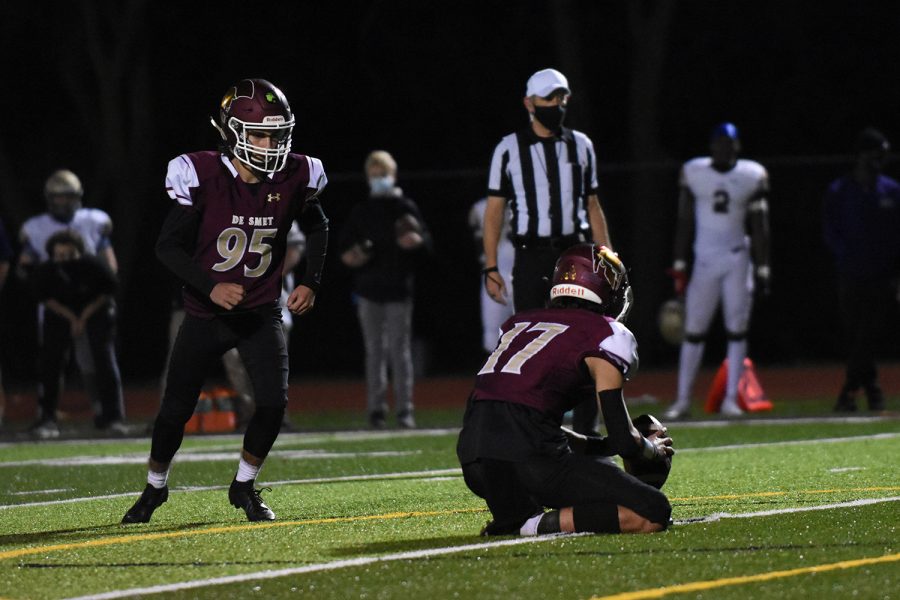 Kevin Jeffries
When the game is tight, he knows deep down that his name may be called to seal the win for his team. He gets his mind in the right place, as the job is just as mentally demanding as it is physically. Finally, he goes out onto the field, hoping to have the perfect kick. He takes the snap, powers his foot through the ball, and hopes to hear the words, "It's good!"
Junior Luke Rothermich became the kicker for the football team while picking up the hobby quickly with little experience to start off with. With the void the Spartan's long-time kicker, Luke Bauer, Rothermich knew he had a chance to make the team.
"I started kicking because it was something I was curious about trying," Rothermich said. "Once I figured out I could possibly do it at the high school level, I went all in and really focused on improving my kicking skills often."
Rothermich began preparing for the 2020 football season last year in November. He would go to his local high school's football field and kick footballs with his father.
"I enjoyed spending that time with my dad," Rothermich said. "Being quarantined also gave me plenty of opportunities to practice kicking, which helped a ton because it's what I spent a lot of my time doing."
Special Teams Coordinator, Tyler Karst, commends Rothermich's adamancy to take his kicking to the next level at every chance he gets.
"Even though he's a player that's new to football, he has stayed committed to getting better every day and never misses practice," Karst said. "I appreciate Luke for his willingness to come into a new sport, a new role, and always putting the team first."
Even while being new to the sport, Rothermich has remained consistent on extra-point attempts and has helped often on kickoffs.
"Luke is always looking to perfect his craft," Karst said. "He has stepped into the role of being a key player on special teams and has made some big-time field goals which is huge."
Rothermich felt the urge to kick because of the potential help he could be to a football team competing for a state championship.
"My motivation for playing is chasing after the state championship," Rothermich said. "It would be so amazing and satisfying to see my name on a banner in the gym."
Although the kicker may have a nerve-racking job, Rothermich enjoys his time with his teammates as it gets him relaxed and ready.
"When I get on the field with my teammates, it's what gets me the most excited and under control," Rothermich said. "If I can help them by contributing to a state championship that would make it even better."