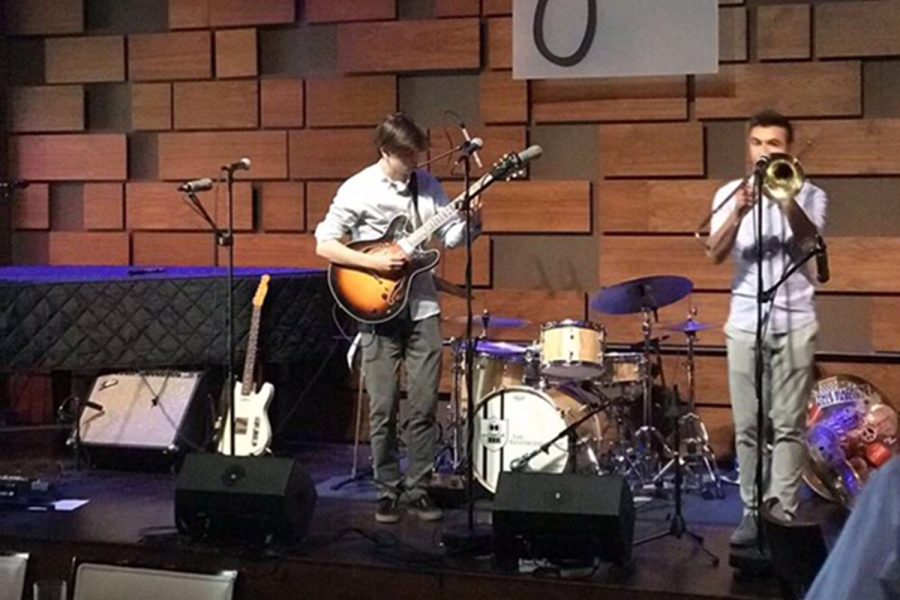 Aidan Bartholet
Stepping out on the stage his palms were sweaty and he was apprehensive for his first performance, the lights were bright, but as soon as he took his first strum of the guitar, he knew it was going to be okay. Instead of sports, his passion was playing instruments. He never thought his love for music would grow to what it is today.
Junior Aidan Bartholet is showing his passion for music by performing at restaurants all over town.
"I started playing music when I was twelve, because I loved it," Bartholet said. "It's what I spend a lot of time doing because if you want to be good at something you have to work hard for it."
He intends on incorporating music into his college life, planning to double major in music studies. His hard work is shown off in his music, practicing four to six hours a day.
"He works very hard which is a very big part, and on top of that he really enjoys it," said Fine Arts Department Chair,and Band Director Mike Karpowicz. "He is one of the best students I have ever had."
Bartholet picked up music at 12 and still has put in the time and effort to get as good as he has. He plays the guitar and piano, he favors the guitar.
"Music is super expressive and you are able to add your own personality to it," Bartholet said. "I plan on playing music or being involved with music in some way for the rest of my life."
People ask him to perform gigs that range anywhere from a private house party to playing at bistros. He plays in a band called, "The Sikes".
"I play at Webster Groves Garden Café and at a sandwich shop called 9th Street Deli," Bartholet said. "I even played at a music festival over this past summer."
Bartholet even finds a way to make his passion a side hustle. Although the money may be a small amount, it doesn't matter to him.
"I make money off of shows every once in a while," Bartholet said. "I also do stuff with a program called Jazz at the Bistro. It's called Jazz U."
Bartholet's love for music comes from the wide range of styles that any musician can be.
"I feel like music has made me a better person and affected how I think about life because music is so much more than just being a good musician," Bartholet said. "It becomes part of your life and is something that you find yourself doing all the time."