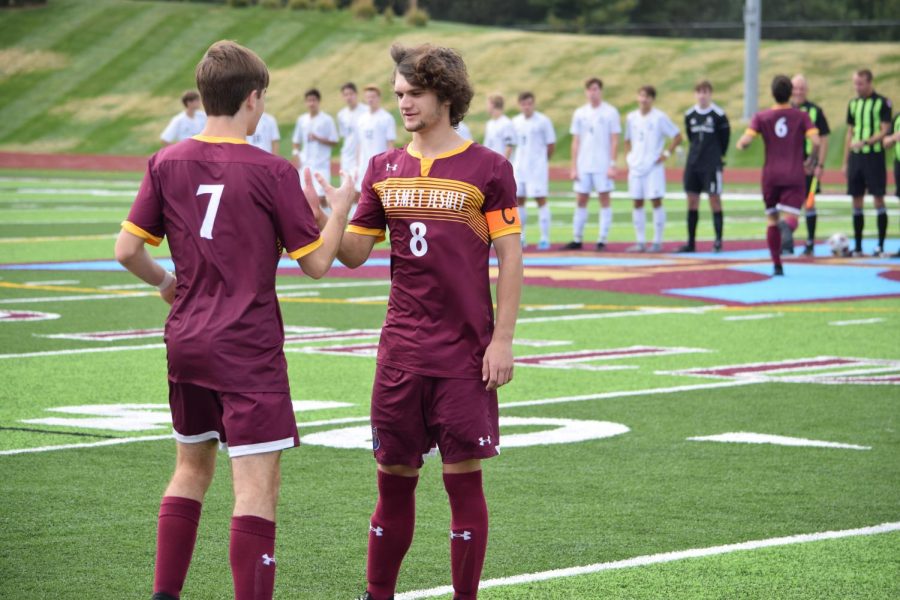 Lavon Jones
His senior season disappeared right in front of him. A terrible injury would keep him from playing the game that he loves. It seemed as if there was nothing positive that could come out of his situation. But, soccer coaches had something special planned for him to still make an impact on the team.
"It took less than a second to come up with the idea," Head Soccer Coach Josh Klein said. "He showed leadership qualities right from the start of his varsity career."
Senior Kyle Burke, despite tearing his ACL playing club soccer, accepted the title of captain for the varsity team. He was named captain along with seniors Jacob Roschke, Nick Grewe, and Henry Lawlor.
"It was a great feeling," Burke said. "It's great to know that the coaches have trust in me to lead the team even though I'm injured."
Even with his injury, Burke puts the team first before any other things he's got going on.
"He adjusts his physical therapy schedule to make sure that he is at every practice, game, and dinners," Klein said. "I think it sends a huge message that he is all in."
Burke's presence in the locker room and on the sideline has helped the soccer team grow and bond together.
"In the huddle before every single game he's always got something to say," junior soccer player Andrew Freund said. "Before the game against CBC, he gave us a few words and got us all excited to get out there and start playing."
Burke's main focus is to help his teammates become better players. He is always looking for opportunities to help out his teammates.
"I try to bring energy and life to the team," Burke said. "Some guys ask me questions and as a captain I need to give the best advice to my teammates that I can."