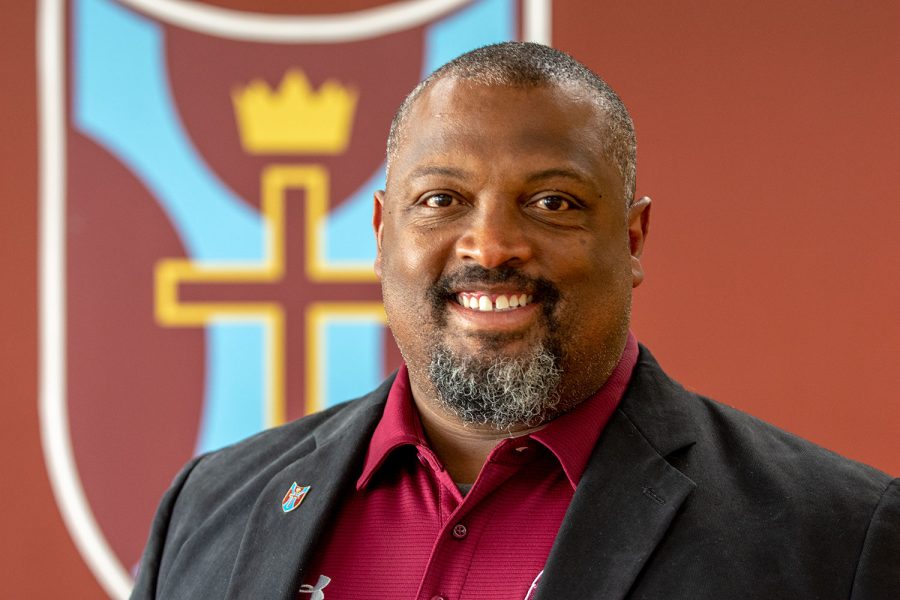 Kevin Berns
De Smet Football has a new face. John Merritt was announced this morning as De Smet's Head Football Coach, as well as a faculty member teaching social studies and weight training.
Mr. Merritt is departing from John Burroughs School, where he has served as Head Football Coach since 2013, a member of the social studies department since 2011, and an Assistant Track and Field Coach since 2011.
In 2015, after leading the Bombers to a Class 3 State Championship, Mr. Merritt was awarded Coach of the Year from four different organizations: the National Football Foundation-St. Louis Chapter; Missouri Statewide Media; Missouri Football Coaches Association; and St. Louis Football Coaches Association. Mr. Merrit had also received the Excellence in Coaching Award from the St. Louis Football Coaches Association three consecutive years, from 2013-2015.
"Teaching and learning are vital parts of my life," Mr. Merritt said. "I'm an educator. My platforms of choice are the social studies classroom and the football field. The Xs and Os are fun, but I am actually about relationships, education, human interaction, and commitment to others and self."
Mr. Merritt holds a Bachelor's Associate from Washington University in St. Louis with concentrations in history, education, African studies, and African American studies. Mr. Merritt's 27-year education career also includes experience as Dean of Students for Crossroads College Preparatory School and Belleville Junior High School and Principal for Abraham Lincoln School. Mr. Merritt also has nonprofit experience, including seven years as a board member for the Independent Schools Association of the Central States (ISACS) and Site Director of Aim High St. Louis.
"We are thrilled to welcome Mr. Merritt to De Smet Jesuit," Principal Kevin Poelker said. "He is a gifted coach and educator who has dedicated his career to the formation of young people on and off the field. We are excited for the impact he will have on the lives of our young men."